Entertainment News
Aretha Franklin Family "Forgives" Madonna For Making VMAs Tribute To Late Singer About Her Life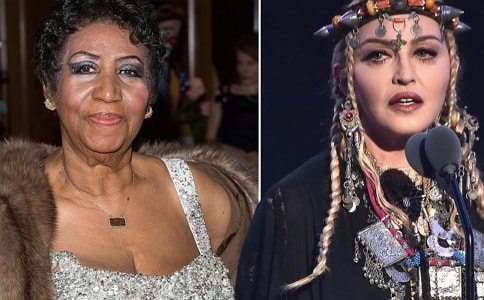 Aretha Franklin Family "Forgives" Madonna For Making VMAs Tribute To Late Singer About Her Life
By Hollywood Unlocked
Singer Madonna has been receiving a lot of backlash following her VMAs tribute to Aretha Franklin. Many believed that the singer made the moment about her rather than remembering the legendary singer and the major impact she had on the world.
Although many fans were upset, Franklin's nephew Tim Franklin who spoke with TMZ said that the family of the late star weren't mad about Madonna's speech. Tim also said that the family "believe Aretha herself would not have been upset either."
Madonna used the majority of the opportunity to memorialize Franklin by recounting a story about an audition she once had where she chose to sing (You Make Me Feel Like) A Natural Woman, one of Franklin's biggest hits.
The pop star took to Instagram on Tuesday to explain that her moment onstage was not intended to be a tribute to Aretha Franklin despite what many believe.
"I was asked to present video of the year by MTV! and then they asked me to share any anecdotes I had in my career connected to Aretha Franklin! I shared a part of my journey and thanked Aretha for inspiring me along the way. I did not intend to do a tribute to her!" she continued. "That would be impossible in 2 minutes with all the noise and tinsel of an award show."
[source]