Crime News
Armed Robbery Attack At First Bank In Ifaki Ekiti: Robbers Invade Bank, Kill Mobile Policeman On Duty…Photos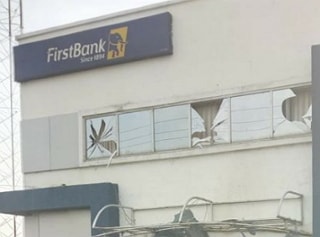 Armed Robbery Attack At First Bank In Ifaki Ekiti: Robbers Invade Bank, Kill Mobile Policeman On Duty…Photos
Some dare devil robbers in the early hours of today carried out a deadly operation on a branch of First Bank in Ifaki Ekiti, killing a mobile policeman attached to the station.
The incident which attracted a large number of sympathizers happened around 6:30am today.
The corpse of the killed mopol was just removed from the scene of the robbery.
Those who witnessed the 30 minute long operation said the robbers numbering 15 invaded the premises of the bank with machine guns and dynamites.