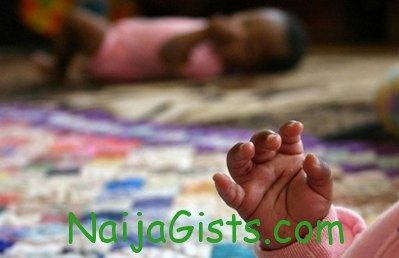 Sept 2nd, 2012 – Baby Thieves On Rampage! Parents Beware
A gang that specializes in stealing and selling of babies thereby inflicting sorrow and anguish on families has invaded several parts of Nigeria. naijagists.com
Investigations by Sunday Sun revealed that it has become increasingly risky for parents to send their little children on errands or leave their babies in the hands of not-too-familiar adults as the syndicate, which includes, women is now on the prowl.
Months after a motherless babies home in Aba, Abia State, was caught operating a child trafficking outfit, another dimension to the filthy lucre has been introduced in parts of Anambra State, especially Onitsha, where no fewer than 12 children were stolen in less than four months. The baby thieves were said to have invaded the commercial city seeking for innocent little children to grab for sale elsewhere. Worse hit is the Awada area of Onitsha where residents now live in palpable fear due to rampant cases of child theft.
For example, in the last four months, not less than 12 kids in the area have been stolen in what a resident described as "most subtle and agonizing" manner. In the latest incident on Thursday, August 23, 2012, a baby girl, Promise Eze, and her six-year-old elder sister, Chiamaka had gone to buy corn pap and bean cakes (akara) about one pole away from their No. 6, Solar Lawrence road residence, Awada at about 7.30pm, when a lady approached them and asked whether their mother was at home.
Chiamaka who, apparently assumed that the stranger was their mother's friend answered in the affirmative and told her that it was their mother who sent them on the errand. It was gathered that the lady later gave her N5 to buy biscuits for little Promise and offered to help her carry the baby while she bought the biscuits. While Chiamaka went into the kiosk to buy the biscuit, the lady pretended to be bargaining for the pap for her and in the twinkling of an eye, disappeared with the baby into the crowd in the next junction.
Chiamaka came out later from the kiosk and discovered to her bewilderment that her little sister and the obviously unfriendly 'friend' of her mother had disappeared into thin air. It was when she cried that people realized what happened and raised alarm but it was too late. The pap seller later told the crowd that soon gathered that she saw the lady in question carrying Promise but presumed that she came with Chiamaka. People later escorted Chiamaka home to break the sad news to her parents. When Sundyay Sun visited their apartment, the stolen child's parents, Chukwuma and Oluchukwu Eze, were still bemoaning their fate. Chukwuma, an Okada rider from Ezzamgbo in Ebonyi state, later narrated how it all happened. "I came back from the day's work and tried to take a shower when people accompanied my first daughter, Chiamaka home.
She was crying and when I asked what happened, she told me that one aunty ran away with Promise. Since that night, we have neither rested nor slept in the night. "We searched everywhere that night to no avail. We went to Awada police station to lodge a report and the Anambra Broadcasting Service Television (ABS TV). The broadcasting station has been showing my baby's picture on the screen since then and we have even gone to Asaba and Okpanam in Delta state in search of the baby."
The distraught father told Sunday Sun that he was, "bitter with the police because the lady Investigating Police Officer we met in the station that night demanded for N3000 which according to her, would be used in sending radio signal. We had only N500 that night which she collected but I discovered that she didn't make any other effort since then", he said. For his wife, Oluchukwu, a petty trader, nothing could be more painful than realizing that one's adorable child was missing and no one could tell whether she was still alive and safe . With tears streaming down her cheeks, she said: "What have I done to deserve this? Who is doing this to me? I must see my baby and hold her again. Whichever hand holding her captive will never have rest.
"God allow your words to be fulfilled. We have gone everywhere including prayer houses and the man of God gave the name of the person who stole my baby as Nkechi. He also prophetically declared that my baby was still around but that Nkechi and her group operate a syndicate and are making arrangement to sell my baby to a childless woman. But I know my God will not allow that to happen". In another incident in Awada, a woman, Mercy Okoro, whose son was also stolen, was lucky to recover him. According to her, she was attending to customers at Ikenwa Street in the evening where she sold fuel, when her baby strolled into the waiting hands of a thief.
A search party eventually apprehended the criminal with the little boy inside Onitsha/ Lagos Park where the woman had bought a ticket to take the child to Lagos. A booming business Investigation by Sunday Sun revealed that stealing babies and little children has become a booming business with varied methods. The South East particularly Aba in Abia State, and parts of Delta state as well as Onitsha and its environs have become synonymous with illegal buying and selling of babies. Some hospitals and maternities as well as so-called orphanages and charity homes run, "baby factories" where they 'mass produce' babies by exploiting young girls with unwanted pregnancies
It was suspected that due to many arrests and closure of such outfits by government agencies, some of the baby merchants might have resorted to stealing people's babies for sale to ignorant adoptive parents who would not go to the Ministry of Women Affairs for proper legal advice. Reacting to the incident, the Executive Director, Integrated Anti–Human Trafficking and Community Development Initiative (INTACOM), Hope Okoye, said the evil practice was not new in Anambra State. She recalled that on September 4, 2011, at the defunct Mammy market of the Army barracks in Onitsha, a lady who pretended to be working in a charity home, deceived a poor mother of twins whose husband was bedridden, and went away with one of the babies.
"The good news is that in February, 2012, the woman who stole the baby and the teacher who bought the baby were arrested. The baby boy was recovered and returned to the mother", she said. Okoye urged adoptive couples to help discourage the ugly trend by refusing to patronize child traffickers. "We use this opportunity to plead with adoptive couples to stop encouraging this wickedness of stealing other people's children and selling them. It is a crime! Babies are not commodities for sale; they are precious gifts from God. If you need to adopt, please go to Ministry of Women Affairs for proper and legal action." In a chat with Sunday Sun, the Divisional Police Officer in charge of Awada police station.
Emeka Ugwu, said that theft of babies had become a worrisome trend and assured that the police in collaboration with other agencies were on top of the situation. "We are here to combat crime and we can't see anything criminal and close our eyes to it. That child stealing is rampant is not true because you cannot separate it from other crimes. Within this short period, we've been able to recover about eight children and reunited them with their biological parents. "We know they are still prowling around because it's a kind of syndicate but once you are able to nab one, you can get the rest.
There will be no hiding place for the criminals", he said. The Head of Enforcement, NAPTIP Zonal office in Enugu, Tony Iwuchukwu, in a telephone chat, said that the agency was poised to eradicate all forms of trafficking, child theft and enslavement. He appealed to members of the public to volunteer relevant information that would help to expose the culprits. (sunnews)