Entertainment News
Double Wahala Housemates Khloe & KBrule Wedding Pictures Bring April Fool Day A Month Forward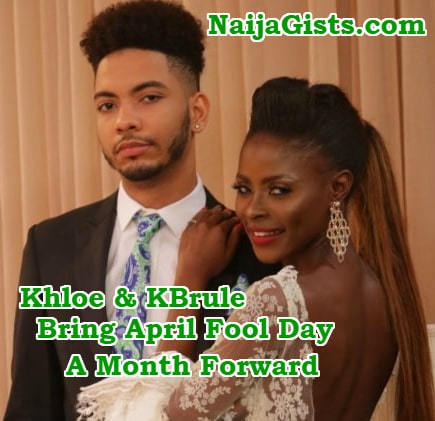 Double Wahala Housemates Khloe & KBrule Bring April Fool's Day A Month Forward With Wedding Pictures
Ex Big Brother, BBNaija double wahala housemate, Khloe brings April fool's day a month forward by sharing drool-worthy pictures of herself and her fellow ex-housemate, KBrule.

According to Khloe, she tied the knot with KBrule a month ago and decided to keep it out of the public's eye untill she found out about her pregnancy status.
She wrote on Instagram:
We tried to make it a secret for a year now but God has his own way of exposing people … I couldn't have asked for a better half than you my king … signing that paper with you a month ago to be with you forever is the best thing .

And today after seeing the scan of that lil pumpkin inside of me I can't hold this joy any longer .
Thanks to @antolecky for being there through all the trying times , thanks to all Bbn family for constant support .
My life is a story and this is a chapter that binds other chapters
Being MRS BRÛLÉ is perfect
Thanks for all baby @k.brule . And pls media stop attaching me to any man " I was just using it as an excuse to keep my relationship private "
Meet The BRULE WHAT IF I LIED ? Lmao #prank#jokesonme
Fans are still in doubt about the truth of their relationship.
However, she went on to debunk the rumours with a subsequent post via her Instagram page.
She said:
"Now that I got yah all attention let me tell you something .. All that fly around social media ain't 100% truth or real . People make things up to seems happy and all that .
You can't know someone via social media . And people feed social media with what they want you to know or what they want you to believe .
THINK ABOUT IT GUYS DONT BE FOOLED".
Follow NaijaGists.com on Facebook and Twitter.