Crime News
3 Bribe-Seeking Policemen Who Chased Bus Driver Into Church In Aba Attacked By Angry Mob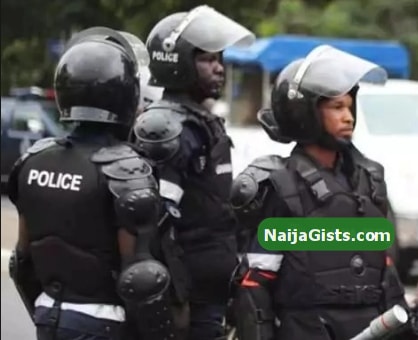 Three corrupt police officers looking for their usual bribe met their Waterloo yesterday after chasing a "stubborn" bus driver into the premises of Christ The King Cathedral Church in Aba Abia state for refusing to settle them.
According to an eyewitness, the police officers chased the bus driver from Asa Road in Azikiwe Junction into the church located on Obohia Road in Aba while mass was ongoing.
On sighting the notorious bribe collectors, a group of youths mobilised at the gate of the church and threatened to attack them.
The officers were rescued by the security man guarding the church who prevented the  youths from gaining access into the premises of the church.
He later let the officers out through the other side of the church.
A witness who identified himself as Chiemeka said it was high time NPF examines the mental status of new recruits.