Breaking News
Finance Minister Ngozi Okonjo Iweala's Mother Kidnapped In Delta State (Queen Of Ogwashi-Uku kingdom)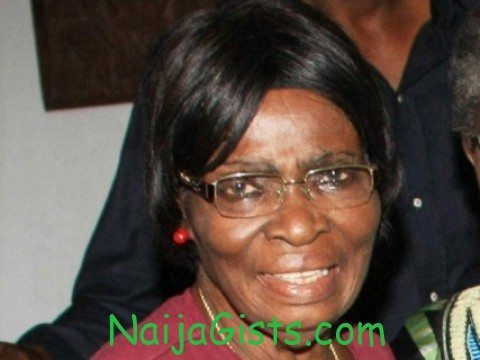 Kamene Okonjo
Dec 9, 2012 – Nigerian Finance Minister, Ngozi Okonjo Iweala's Mother Kidnapped In Delta State (Queen Of Ogwashi-Uku kingdom)

The mother of Nigeria's Finance minister (Hon. Ngozi Okonjo Iweala) has been kidnapped in Delta State. naijagists.com
We learnt the aged woman( Queen of Ogwashi-Uku kingdom) was kidnapped by 8 gunmen at about 1:30pm on Sunday afternoon at her hubby's residence located in Ogbe-Ofe quarters in Ogwashi Uku area of Delta State.
The gunmen stormed the palace in 2 Audi cars.
Ngozi Iweala's mother , Prof. Kamene Okonjo is a medical doctor who is married to a popular monarch (traditional ruler), Professor Chukwuka Aninshi Okonjo Agbogidi in Ogwashi-Uku kingdom. She is 82-year-old.
Delta State Police spokesman, Charles Muka who confirmed her abduction said: "Yes, we (police) have got the information on the kidnap and we have also got information that will lead to the arrest of the hoodlums,"
Following her kidnap, security has been tightened in the palace and Delta State police officials have launched a manhunt for her kidnappers.
Okonjo's father, Prof. Chukwuka Okonjo is a retired professor of Economics at the University of Ibadan, Oyo State and the traditional ruler of Ogwashi-Uku Kingdom in Delta State while her mother, Kamene, is also a retired professor of Sociology from the University of Nigeria, Nsukka (UNN).
Okonjo's husband, Dr. Ikemba Iweala is a United States (U.S.)-based neuro-surgeon.
We are still unsure if the finance minister is aware of this developing news.
We hope for her safe return.
Stay in touch with NaijaGists.com for update on this developing story.
Follow us on Facebook at https://www.facebook.com/naijagists and on Twitter at https://www.twitter.com/naijagists for latest Naija news update.