Crime News
Fuel Tanker Accident In Ikorodu, Lagos Causes Gridlock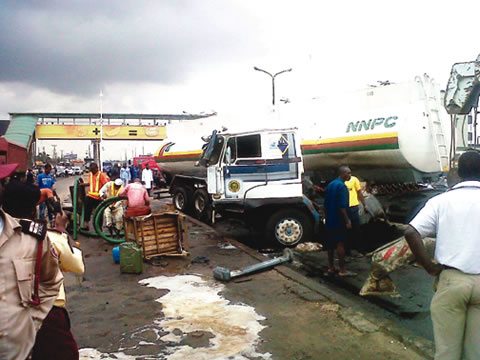 Accident scene
Sept 25, 2012 – Fuel Tanker Accident In Ikorodu, Lagos Causes Gridlock
Several motorists and commuters travelling on Ikorodu Road in Lagos State Nigeria experienced serious traffic issue on Monday Sept 24, 2012 after a petrol tanker ran into the BRT lane at Ojota. naijagists.com
The fuel tank incident which happened around 12:05 am has aroused fear of explosion due to the spilled content.
According to eye witnesses, the driver of the NNPC tanker took cover after the incident.
Here is a report from another eyewitness who's a resident of the area:
"I heard a loud bang from my house which is some metres away from the expressway and I rushed out to catch a glimpse of what happened.
"I saw driver and his assistant running towards Ketu. Some people who rushed to the scene started making calls to emergency officials to come to the scene and prevent the situation from being chaotic."
No casualty reported in the incident.