Hot Gists
Funke Akindele Twins Naming Pictures: Jenifa Hides Babies Faces In 2nd Post Child Birth Photos
Funke Akindele Twin Babies Naming Ceremony Photos: Jenifa Hides Babies Faces In 2nd Post Child Birth Pictures
Less than 24 hours after NaijaGists.com shared Nollywood actress Funke Akindele's post-baby photo, the actress has returned with yet another photo and this time around she included her adorable newborns and her step-kids.
Even though she concealed the faces of her twins, the actress has once again confirmed that she has become a mother.
The Jenifa Diary's producer,  her husband, Rasheed Bello and children were full of smiles in the photo obviously taking from the naming ceremony of the twins.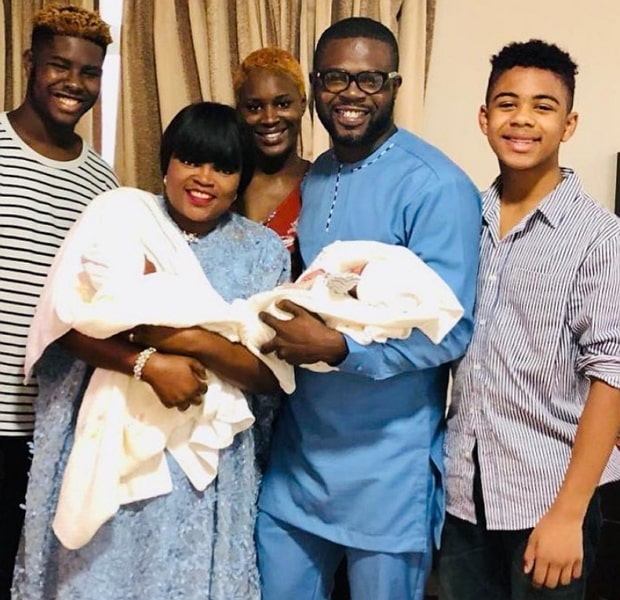 Congratulations have become the order of the day for the actress and her entire family.
https://www.instagram.com/p/BsOMvJchcaY/
See comments from their excited fans.
yinkawealth Congratulations

chalselove I claim and prophesy that this my next testimony by God Grace Amen

deboraholorunphemmy Wow, to God be the glory. May God protect and safe guide them. Congratulations ma and sir.

midestouch01 Atlast so happy for u ma…my one Nd only jenifa

a4dablez_bags This family is blessed?

thokothya_kidz Congratulations ??

mz_fujebeautiful people❤❤

onaolapoolalekan3 Congratulations to Bellow's family

m_r_mmwCongrats

romeocrown01 Congratulations

fibby002Bless you sis @funkejenifaakindele God bless the twins

bee_beecollection1 Congrats daddy 2

omolara.opeyemi.56 Congratulations oluwaseun so so happy for you guys.

ostellaabiola Ejire mba bi mba yo, omo meji mi ejire o so'le alakisa d'ile alaso

samuelpassion????

flossie7871 Love this couple best??? ur Liberian sis in Montreal…??

everstdon God bless d famz immensely

nursechikylindy I love u mummy Jennifer. Congratulations to u and ur husband..

faith_ogoo Lovely

_iamdebeecy All the glory belong to God ??

joytrizzy??❤️❤️❤️❤️

bimpewater Congratulations

missolakemi Blessed❤️❤️?

rexzy_jproductions Congratulations sir

graceakor Congratulations @jjcskillz

beearrey83????

sweetgurl245@leocastro147  yes baby like us❤️❤️

toyin.sulaiman Am so happy for guys congrat

sophalove_1 Congrats honey

lauraomomo Congrats

temiladeoduala God is good

tunmiseeni❤️❤️❤️❤️???

mhizfiyin_foluwa Congratulations

oluwatoyin_v Congratulations

simply_yhemzy Congratulations sir

nikkyholu Hallelujah ooo, Congratulations @funkejenifaakindele

missgimsay247 God bless you all sir@jjcskillz

sstemmy6420 Wow welcome Ejire oyila…a big congratulations to the bellos?

_omotanwa_??

_me_blushCongrats

seedcat Congratulations sir… God bless and the twins

mama_g_square?????????

omalichanenye Big congrats see my Jenifer face oooo orobo ,,am so happy for u

ojuoyekay Congratulations

mzheemah Awwww so cute ???

maccarthy.sarah God bless u mame

realjulietjohnson Thank you Jesus ???

deborahnneoma Our God is Awesome, congratulations ma

ademolaadesewaCongratulations

motti_mediaGod Is The Greatest???congratulations once again sir

kb_genty Congratulations I'm so happy.

dmofgrace?

adaajufoh Aww God is awesome

yaaamanuwiaah Awwwwwwww. Am teary

beebhiolar Congrats ???

alheri_ebenezer Congratulations.

officiallizzybe eHappy Fam!❤️

deejaydouglas Congratulations brother God bless new born baby and welcome to this world.
The actress puts to bed in the United States last week.
Why Is Funke Akindele Hiding Her Twins Faces
Well like the saying goes "Ota Po Ju Enemy Lo Olote Yapa", the actress is playing it safe.
Before her miraculous child birth, a prophet in Lagos (Prophet Faleyimu) has vowed that the actress can never give birth because she's a member of the Egungun cult but as God will have  it, the actress has proved him wrong.
At this stage, it is only wise for her to protect those innocent babies from the eyes of the evil ones looking to have the last laugh.
May God protect these adorable angels from the evil ones.
Congrats to the Bellos for this wonderful addition to their family. #Olowogbogboro has done it. #Logan Ti O De..