Crime News
How The Ghost Of Ex Ondo Deputy Governor Daughter, Khadijat Oluboyo Exposed Her Killer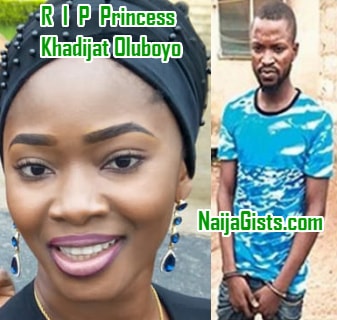 How The Ghost Of Ex ONdo Deputy Governor Daughter, Khadijat Oluboyo Exposed Her Killer
The father of the alleged internet fraudster who murdered ex Ondo deputy Governor's daughter Khadijat Oluboyo has  handed his son to police.
Alhaji Alani Adeniyi Alao, the father of Adeyemi Alao said he took his son to the police after his other children found the victim's body in a grave he dug in his room.
One of the neighbours said Adeyemi lived with some tenants in the boys' quarters of his father's house where the body of the girl was discovered in a grave inside his room.
Adeyemi, the first son of the family, had just returned from Abuja where he observed his national youth service before carrying out the suspected killing of his girlfriend, a final year student of the Adekunle Ajasin Univerity (AAU), Akungba- Akoko, last week.
27-year-old Adeyemi is described as a quiet young man who always kept to himself and seldom greeted people.
The neighbour, who spoke in confidence, added: "Khadijat's ghost appeared to Mutiu, who is Adeyemi's brother.
"It was Mutiu who reported to his father and the father told him to rush to the 'B' Division Police Station before Adeyemi was arrested."
The suspect reportedly buried Khadijat in a shallow grave in his room 6 days before he was arrested.