Crime News
Cruel Fate: Her In-Laws Took Over Late Husband's Properties And Left Her & 5 Children With Nothing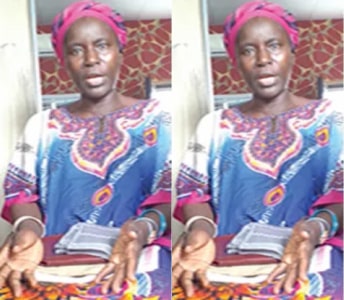 By Oluwatosin Omoniyi, New Telegraph
Cruel Fate: How Wicked In-Laws Took Over Husband's Property From Widowed Mother Of 5
Her In-Laws Took Over Late Husband's Properties And Left Her & 5 Children With Nothing
For Taiwo Olajide, a widow and mother of five, to say her life is not a bed of roses is an understatement.

For 12 years since her husband's demise, she still finds it difficult to overcome her pains.

Her in-laws have not assuaged her pains and those of her children.

She tells OLUWATOSIN OMONIYI, how she and her children have been denied access to her husband's property, thereby subjecting her to abject poverty

How did your husband die?
I got married to my husband in 1992 and he died in year 2007. He was working with power and steel in Abuja. I was called in January 2006, towards month end that my husband was sick, so I went down to Abuja to see him but what baffled me most was that, on getting there, he wasn't himself anymore, he was just screaming headache! Headache! He screamed that he was in serious pain.

They moved him to National hospital in Abuja where, he spent days where he died. I felt the end has come for me , I asked myself where will I start from? I wasn't working because he didn't allow me. He told me to keep my certificate so as to take proper care of the children. After his death, life came to a halt for us. I struggled to make ends meet for me and the children but it was extremely difficult so I went back to Abuja to complain to the minister that I was jobless. The minister asked me what I wanted. I replied that I needed somebody to teach me how to fish because if he gave me money, it would finish in no time. So, he gave me a letter of appointment to NEPA which was where I worked ad Human Resource Manager,(HRM) and was able to train my children half way in school before NEPA was sold and I was retrenched.
So, how has life been after his death?
Hellish!! My husband had a daughter by another woman he wasn't married to legally. and the man said they should be sharing the money and they will give her and they give me the huge from the money. So later, everything just changed suddenly but before it change, the woman's daughter went abusing that senior man who was my husband's senior brother that he is thief that he is using her Father's money to eat, build house and sponsor his children that one now called me when i was at Akure that he doesn't think he can continue with all this rubbish if that girl should call him and start blasting him on the phone that he will stop then the man stopped and since he stopped was the last time i collected money from that place which has been two to three years ago.
What are your husband's people saying?
I went back to them to complain that I don't have any money to sponsor my children to school, as such, they should help me. But on getting to the house in Lagos, the tenant of one room my in-law family allocated to me, said that Oloriebi (family head) said they should not give me any money, but on inquire from Oloriebi, he denied giving such instruction. I tried to argue it with him but he waved me off. That was when I came to the conclusion that it was a plan work among them. It got so bad to the extent I would call my tenant but the couple would not pick and would not call me back.
I kept shuttling between Akure and Ode-aye in Okitipupa for about eight begging my in-laws to share the property properly so that I can raise money for welfare of my children.
It was as if my husband had premonition about his death. One day, he came back from his village in December 2006, he gave me our wedding invite card with agony that I should keep it carefully because I never can tell when I would need. I am now seeing sense in that action of his.
What was your relationship like with your husband's family before he died?
It was normal, I loved him and he cared for us. The children and I do visit him in Abuja.
Were you in cordial relationship with in-laws before he died?
I can say yes but all of a sudden when he died, i did not see their faces anymore. In fact, they avoided the children and I like a plague. They do tell themselves that I can't put my mouth, I don't want problem for myself, I can't do this, I can't do that…. They just keep dodging us.
Even the ones that came for my daughter's wedding, it was a thug of war with them when they went back.
What happened that they became that hostile towards you and your children since they were not like that when your husband was alive?
When my husband was alive, every December, my husband would load his Volvo van with bottles of wine, clothes, yam and other assorted gifts to his people in the village. There was even a year he went there to garment all their masquerades. So, I didn't hinder my husband from taking care of his people. I had no problem with them at all.
Is there anything they are demanding from you, that you are not giving them?
At all. Actually, there is a vehicle-Prelude in my hand, my husband brought it from Abuja and my husband's family said they are taking it to Ode-aye in the village. The eldest one countered them and asked "why should they do that when his wife and children are still available to use it? Leave this vehicle in the compound for the wife and the children. But my in-law insisted that I bring the car, else they would not bury my husband! That is the only thing I know that they asked me and I denied them.
Madam, you said when your husband died you saw some signs which made you believe he was killed, what were those signs?
When they wanted to bury him, the sun shone extremely and unbearably and immediately that they put him inside the grave, everywhere became very dark. His family demanded that myself and the other woman who has a child for my husband to cross the grave. I asked why? But, my brother encouraged me to cross it, since he knew that I don't have a hand in his death. I did, so also the other woman did it, immediately we crossed it, the sky just changed to black. I've never seen such a storm in my life. The storm was very heavy to the point that all the canopies rolled away. Everyone scampered for safety but I stayed where I was and nothing happened to me.
That was the only ritual rite that I was put through because they thought I killed my husband, their son.
What are you now doing to survive?
I work as a cleaner in a church
How many houses did your husband built?
He has one at Ikorodu but I don't know the address. One of the drivers told me he knows where the house is but he never did till I lost his contact.
But the one in Igando is a gigantic of two story building-a four-unit of three bedroom flats, two units of two bedroom and two units of self-contain.
So what happened regarding the rent?
Except for once that I collected one year rent, and this year, I got only N10,000. The couple told me that my in-laws have been coming to collect the rent from them, thereby denying me and my children.
What about your husband's gratuity from the federal government, did you get it?
My husband worked for about 26 years. All I get for his long years of service was just N1.2million naira. I collected it through pension, so they paid it into my account. They asked me to open an account personally for the money, so every enquiry that is made will be on record. I collected the money more than four years ago. It was paid twice-in N300, 000 and N900, 000.