Crime News
Man Stabbed At Viewing Center In Ado Ekiti Recounts Ordeal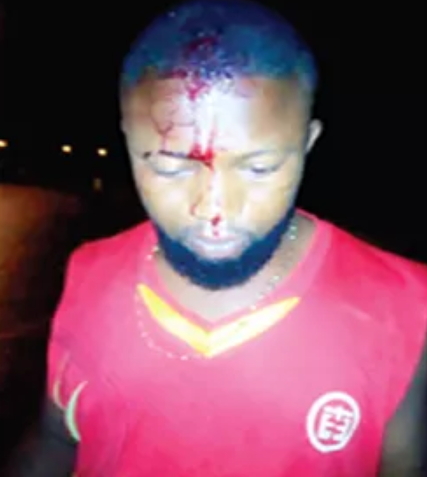 Man Stabbed At Viewing Center In Ado Ekiti Recounts Ordeal
The Ekiti State Police Command has arrested 3 butchers who allegedly stabbed a barber in Ado Ekiti few days ago.

The victim , a 33-year-old barber identified as Ajibola Falegan was stabbed at a football viewing centre in Baisiri area of Ado Ekiti on Wednesday evening.

Falegan, who is now receiving treatment at a private medical centre, had deep cuts in his head and body.

He was said to have been attacked with machetes and knives. Falegan explained that the suspects were having altercation with his younger brother at the viewing centre before he got there but when they saw him, they pounced on him.
His words:
"I passed out when the attackers stabbed me in the head and body. I regained consciousness at the hospital. The men, who attacked me, stole my L9phone worth N70,000 and cash of N10,000. I have never had any misunderstanding with any of them. We live within the same vicinity. I got home about 9.30p.m. on Wednesday after closing.

"When I got home, I learnt my younger brother was still at the viewing centre. I went there with the intention to bring him home. It was already getting late. When I got there, they were having an argument with my brother. I beckoned on him to follow me home. The boys started harassing me. They started by slapping me. Later, they started attacking me with machetes and knives which they hid under their dresses."

"There was an uproar everywhere. When I ran to escape, they chased and stabbed me until I fainted and then they left. As they were doing this, my brother rushed home to tell my wife. The two of them went to the police station to arrest them."
The suspects have been detained at a police station on New Iyin Road in Ado-Ekiti after they were arrested about 10.30p.m.
Follow NaijaGists.com on Facebook and Twitter.