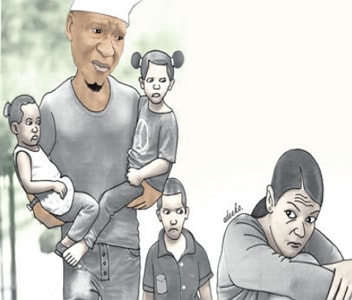 Imam Divorces Wife Who Converted To Christianity & Changed Name From Rashidat To Rachael
A top Islamic leader  in Egan area of Lagos has divorced his wife of 23 years for converting to Christianity.
45-year-old Rabiu Olayiwola, an Imam urged a court in Igando yesterday to end his marriage to 41-year-old Rashidat, the mother of  his 7 children.
He told the court he no longer loves his wife because she converted to Christianity and became a prophetess.
The couple, who got married in 2000 in accordance with Islamic injunctions, have seven children.
Rabiu, who hails from Ofiki in Atisbo South Local Government Area of Oyo State, said he no longer loved his wife because she converted to Christianity.
Rabiu, an imam  from Ofiki area of Atisbo Oyo state said:
"She has stopped showing me the care and love that she used to show me since she converted to Christianity. This has also not given me any peace of mind as she also questions my authority. My wife goes out at will and never informs me about her movement. Most times, she takes my children to vigils and I don't want that in my house.

"I am not against her religious practice but she shouldn't take my children with her," Rabiu explained.
The petitioner, who lives in Egan, a Lagos suburb, said:
"My wife now practices Christianity and claims to be a prophetess but has only caused trouble and brought shame to me."

"She doesn't do those things a wife ought to do.

"She disrespects me in front of the children and also my Muslim members".
The petitioner claimed that after the Alternative Dispute Resolution's (ADR's) intervention, everything went on smoothly for a week before trouble started all over again.
His wife, he said, proved stubborn when she was called by the Islamic group in the community.
He said:
"She and I can't go on different religions as this would be a great disaster to me and my reputation. I don't want a divorce if only my wife would come back to being a Muslim. But if she is not ready to change, I want the court to separate us as I am no longer interested in the union; I want to live comfortably and in peace."
Rabiu urged the court to award the custody of their children to him.
Rashidat, who has changed her name to Rachael, denied the allegations. She described her husband as inconsiderate.
The respondent said:
"My husband is not fair; he only cares about himself and what he wants. He says he wants me to be a Muslim again when he knows quite well that I was a Christian before marrying him. But because I loved him, I did as he wanted.
"God has been calling me to be a prophetess and I have been unclear about His calling until two years ago and since I did, my husband has changed towards me. He also went against my wish to shave my son's hair after we were told not to"
The 41-year-old woman, who is a photographer, added:
"I still love him, but whatever he wants is okay by me. But I can't leave the house we both built of which I suffered most. I do not want to end the marriage because of the love I have for my children, I do not want them to grow up in a separated home."
She insisted that she would not change her religion, adding that she would not oppose the divorce if it would bring peace.
The court's President, Mr Akin Akinniyi, said the couple were obviously tired of each other.
He ordered Rabiu to give his wife N5000 monthly and continue his duty to his children.
He advised the estranged couple to keep the peace while they live together.
"I hereby adjourn the case till July 17 for judgment," he said.