Nollywood
Is Jaiye Kuti Pasuma's Wife? Are They Married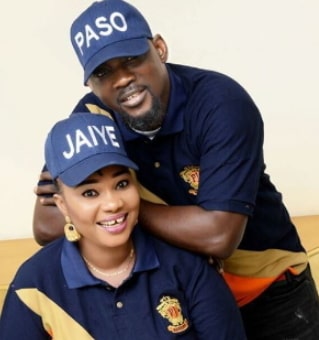 Is Jaiye Kuti Married To Wasiu Alabi (Pasuma)
Many individuals are of the opinion that Jaiye Kuti is married to or at least once dated and even temporarily married fuji music star Wasiu Alabi popularly known as Pasuma. She however has come out on several occasions to debunk this scandal which was born as a result of the role of husband and wife which they both played in the movie titled Jaiyeola Ni Monje.
Wasiu Alabi (Pasuma) is a well known Nigerian Fuji musician and occasional actor. Fuji is a genre of Nigerian music made popular by Alhaji Sikiru Ayinde, it originated from a type of music performed by Muslims during the Ramadan period. Wasiu Alabi was born on the 27th of November 1967 in Mushin, Lagos State; but later relocated to somewhere in Kwara State where he grew up. He had his primary school education at Muslim Mission Primary School in 1973 and his secondary school education at Nigerian Model High School.
His parents got separated at the age of nine from then on; he was solely raised by his mother. He is said to have had a rather humble background as he revealed growing up was not easy for himself and his mother. His career in music is said have been opposed by his mother at the early stages but he later gained her support.
He is a talented musician who released his debut album in 1993 titled Recognition and has released well over forty albums since then; he sometimes releases as many as three albums in a year. Some of his albums include: Choice, Orobokibo, Computer, The man, Confidence, London scope, London experience, Entertainer, judgment, Desperado, Fuji motion, stability, Goodness and Mercy, Feel it, Ability, Purity, Undefeated and Wisdom and Maturity.
His third Album Orobokibo brought him to the limelight and gave him the opportunity to host his first concert in 1996. In 2015 amidst a tight competition, he emerged the winner of the Nigeria Entertainment Awards for Best Indigenous Artist of the year.
Wasiu Alabi has never been married; he has a total of ten (10) children made up of two sons and eight daughters from various women. His oldest child Wasilat Ajibola is believed to have been a student of Lead City University as of 2017. He is a proud father and often injects the name of his children into his songs.
Visit NaijaGists.com for entertainment news update.