Hot Gists
Jamaican Woman Attacks, Interrupts Babajide Sanwo Olu Campaign Event Meet Palmer King (Photos)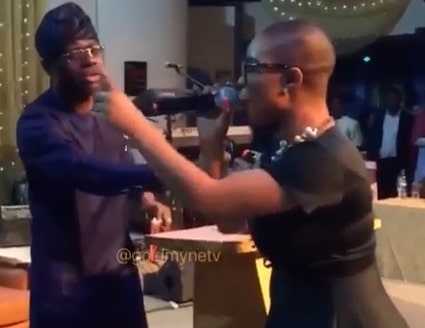 Babajide Sanwolu Stunned As Jamaican Lady Almost Attacked Him During Evening Event
Jamaican Woman Attacks, Interrupts Babajide Sanwo Olu Campaign Event Meet Palmer King
Meet Palmer King, a Lagos-based Jamaican woman who attempted to attack, Lagos State APC Governorship candidate Babajide Sanwoolu last night during a campaign event organized by Nite Shift Coliseum.
Eyewitnesses said Palmer came directly to the front with a mission to disgrace the politician but he was smart enough to step back as the lady kept pursuing him.
It was the last minute intervention of some people in the area that saved the night for Mr Sanwo Olu.
Watch the short video below
https://www.instagram.com/p/BtLI2KDl1h8/
The aggressive woman said she's smart enough to ask a question but her attitude has put her smartness claim to test.
A smart woman can never do such.
It is obvious someone somewhere sent her to interrupt the political candidate.
Such show of shame is very rare in Nigeria.