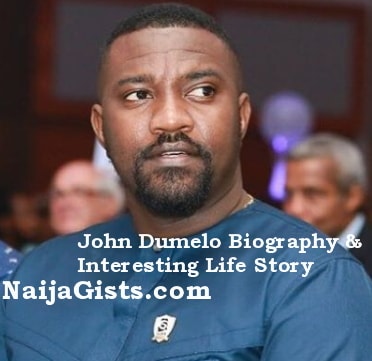 Biography And Life History Of Ghana's Richest Actor John Kofi Setor Dumelo
By NaijaGists.com Reporter
Ghana is home to many of the biggest stars to ever come out of Africa, and John Dumelo whose full name is John Kofi Setor Dumelo. This talented individual is one that has managed to find his way to the big table through constant hard work and talent. Having started as a child actor, John Dumelo has made his way up the ladder in the acting profession managing to surpass his peers and today, he is one of the most sought after actors in America.
Although starting as a child actor, John Dumelo story was not one with a bed of roses with him following a straight path to his passion. His life is characterized by ups and downs especially due to the low development of the Ghanaian movie industry, Ghallywood, when he started his career. Despite the setbacks, watching John Dumelo's roles, one would think the actor spent his whole life developing his acting skills but that is not all true.
Apart from acting, John Dumelo is one of the few actors in which one can certainly characterize as multi-talented. His activities and professional lives go beyond the boundaries of acting alone with him being an entrepreneur and a politician. And one can tell he has made an impact as he is a significant member of one of the major parties in Ghana.
On relationsships and personal life, the actor is regarded as a very friendly and down to earth person, with him still holding strong connections to his parents and siblings despite having a very busy professional life. Away from home in his romantic relationships, John Dumelo has always been one to remain very tight lipped despite the controversies and allegations associated with his profession and the fame that come with it. He made a major revelation and shocked his fans by finally settling down recently, in 2018. A move that broke many of his female fans hearts.
John Dumelo is an outstanding individual that has managed to make significan contributions is almost every aspect in has been involved in. He is an actor, entrepreneur and vibrant politician, not to mention being a lovable family man. This articles gives an insight into the life of this one in a million individual and is one his fans would appreciate to have come across.
John Dumelo Date & Place Of Birth And Family History
John Dumelo was born into a family of five on the 3rd of February 1984 in Ghana. He is the last of 3 children and is the only boy among them, with his eldest ones being females. An attribute his fans have often characterized with his good relationship with women. His parents are named Mr John Dumelo Senior and Mrs Antoinette Dumelo. The actor is very fond of his family and has on various occasions appreciated them for giving him the chance to follow his passion, a decision which has changed all their lives positively.
When the actor had gotten to the appropriate school age he was enrolled in Christ The King College in Accra Ghana. A school he was fortunate to have gone to and put him on the screen for the first time. John Dumelo was always an active member of the school drama from the onset and had his chance to impress on the big screen at the early age of 7, when a popular Ghanaian TV company Gama had auditions in his school. The young actor having made a very good impression won a lead role in 1991, an opportunity that started his career and set him on the path of success.
He played the role of 'Saka', one of the lead acts in the movie Baby Thief and was received warmly by the public. After a successful period on screen he had to take a break and continue his education but the brief acting stint had fueled the fire to his acting passion.
John Dumelo subsequently went on to have his primary education at Achimota School located in Accra Ghana. This was a privilege as the school is known for producing exceptional individuals such as the Kwame Nkrumah and Robert Mugabe of Zimbabwe. After his secondary education he went ahead to study civil engineering at the Kwame Nkrumah University of Science and Technology. He had a successful stay at the University although his degree remained as just an alternative. He sought to follow his first passion which was acting.
John Dumelo Career Awards And Net Worth
John Dumelo had his first screen appearance at the age of 7 but had to take a break to further his education. After he was done with the fundamentals, the actor featured on many Ghanaian TV shows and series. One of such is the famous Sun City series. The actor having been an epitome of talent didn't take too long to find his way into the big screen.
He made his way into the limelight when he featured as the lead role in the movie 'The King Is Mine' in 2008. The actor played his role and impressed the public, also managing to attract the bigwigs of Africa's leading film industry Nollywood in Nigeria. From there on he began to steadily rise among the ranks and started featuring alongside A-list actors.
Some of the famous movies in which John Dumelo has featured in include Letter to My Mother, Ties That Bound, The Game and Mirror of Life, just to mention a few. He has worked alongside many of the top acts in Ghallywood and Nollywood such as Nadia Buari, Van Vicker, Desmond Elliot, Rita Dominic and many others. By 2013 John Dumelo was already among the highest earning actors in Ghana with his works traveling beyond the shores of Ghana and the African Continent.
His amazing talent and hard works is one that definitely can not pass by without being noticed and given proper recognition. He has a host of awards to his name, bagging them on the local and international scene. He earned his first major award when he won The Africa Most Outstanding Actor Award at the Afro Australian Music and Movie Awards in 2011. Other reputable awards in which this famous actor has to his name include the Best Actor in a Lead Role at the Ghana Movie Awards in 2013 and The Best Actor Award at the  Panafrican Film and Television Festival of Ougadougou (FESPACO) in 2017. The actor has several other minor awards to his name and major nominations. With his kind of exceptional talent it's quite sure he is going to be bagging many more soon.
Away from the entertainment industry and onscreen life John Dumelo is a vibrant entrepreneur with several start-ups to his name. His business investments has its range on different sector going from fashion to construction and even technology. The actor owns his own construction company that works in different parts of Ghana, he is one of the major shareholders of an IT firm and he launched his clothing line 'J-Melo' in 2012. The launching of his clothing line was a particularly successful one with many of his famous colleagues and bigwigs in attendance.
John Dumelo has never been one to keep his political ambitions away from the public. He is a vibrant member of one of Ghana's most famous political party, the National Democratic Congress (NDC). He was one of their major campaign agents during the last General Election in 2016, although the party lost. It is believed the actor was rewarded with a position as the director of the party's youth wing for his immense contribution. Could John Dumelo be a Ghanaian president in the making? That is a questions his fans would look forward to answering.
As was mentioned earlier, John Dumelo is without doubt a multi-talented individual. His several business investments combined with his acting prowess have made him stand out among his peers. This attributes when complemented with his political value in Ghana have earned him an estimated networth of $5.5 million.
John Dumelo Family Life, Marriage And Relationships
Surprisingly, John Dumelo has done well to avoid many of the several rumors and allegations that come with his career and fame. His fans have always wondered why the actor has decided to remain single over the years and he has attributed this to rising cases of divorce, especially in the entertainment industry.
After more than a decade as a successful actor, businessman and politician. John Dumelo let the cat out of the bag when he announced he was getting married to his long time girl friend Gifty Mawunya Nkornu in 2018. Gifty is a Ghanaian lawyer that is primarily based in London.
She is well educated and established, an attribute many believe attracted the actor to her, not forgetting she is also very beautiful. Another important fact to note is that Gifty is a very close friend to famous actress Nadia Buari.
The couple got married in May 2018 in a private ceremony in Spintex Accra. The event was graced by many of the biggest stars in the entertainment industry and also reputable individuals such former president of Ghana John Mahama. The actor has taken time off screen and his fans believe he is devoting more time to his wife. The couple is a beautiful one and their relationship is like a fairy tale come true.
Away from romance, John Dumelo is very fond of his family which consist of his parents and two elder sisters. They have managed to stay away from the public view but the actor never fails to appreciate them when given the chance.
John Dumelo Current Life
John Dumelo is a very busy man having managed to build a business empire for himself, a suitable alternative for his career in the entertainment industry. One can expect him to be up keeping the wheels rolling as he holds a vital position in the National Democratic Congress (NDC) with elections fast approaching and not to talk of the hustle associated with the entertainment industry. With all these listed, he certainly has a lot on his plate.
But the actor seems to be currently enjoying the moment with his newly found bride. The couple who have never shared a picture of each other before on their timeliness did, during their honeymoon. The most eye catching was his wife's post where she thanked God for having met such a wonderful man. Her post goes thus "Thank you Lord Jesus for my yummy dark hot chocolate husband…indeed you make all things beautiful in your time."
The location of their honeymoon was not disclosed but you can trust their fans to figure it out. There have been conclusions that the couples is having a very expensive honeymoon at the surreal environment of Dubai. All cheers to them.
John Dumelo has also been involved in many notable movie projects prior to his wedding. Some of them include Black Men Rock and Beautiful Ruins, just to mention a few.
The actor is one individual that is going at full speed. His fans believe he still has a lot to offer and he looks like one that is always ready to deliver.
Copyright © NaijaGists.com. All rights reserved.

This material may not be reproduced, published, broadcast, rewritten or redistributed in whole or in part without prior express written permission from NaijaGists.com.