Hot Gists
Lagbaja Real Face Photo By Aremu Afolayan Is That Of A Look Alike… Attention Seeking Nollywood Actor Fools Nigerians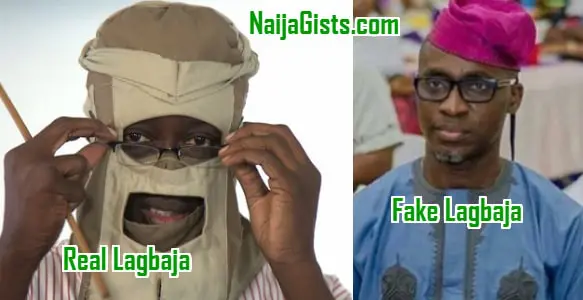 Fake Lagbaja, Bisade Ologunde Look-alike Photo Goes Viral As Serial Attention Seeker Aremu Afolayan Deceives Nigerians
Lagbaja Real Face Picture By Aremu Afolayan Is That Of A Look Alike… Attention Seeking Nollywood Actor Fools Nigerians
The photo that went viral yesterday is not that of real Lagbaja aka Bisade Ologunde.
This is not real Lagbaja.
Serial attention seeker, Aremu Afolayan who probably needs more hit on his Instagram profile fooled some gullible Nigerians yesterday by sharing a photo he came across on the social media and tagging it as real Lagbaja.
He has since removed the photo from his Instagram profile after fooling over 3 million active social media users.
No one can unravel the mystery behind Lagbaja for now.
We all know the moment that happens, his brand will crumble.
If you believe this is Lagbaja's real face photo, you need prayers.
We go remember una in our prayers on Sunday.
Aremu Afolayan NG don catch you. #Be "Kiaful".
Read what a family insider told NG on why Lagbaja became masked here.