Crime News
Murder & Ritual Killings On The Rise In Sapele Delta State.. See How Elderly Farmer Escapes Beheading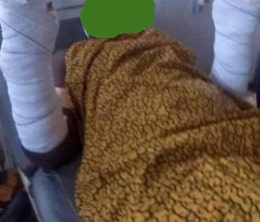 Murder & Ritual Killings On The Rise In Sapele Delta State.. See How Elderly Farmer Escapes Beheading
Some residents of Delta state are now living in fear over the high rate of murder and ritual killings in the state.
A woman escaped death by whisker on Saturday the 1st of November 2018 on her way to the farm in Sapele area of the state.
The widow was on her bicycle when she was reportedly attacked by the man who used a plank to hit her down before using a cutlass to strike her.
According to journalist Sapele Oghenek, after striking the woman down, the attacker made an attempt to cut off her head before she raised an alarm and screamed loudly.
Her scream made the attacker to flee and abandon his mission as she sustained a deep cut on her face following the first machete strike.
The woman who reported the attack to the police was later asked to pay N15,000 so as to arrest her attacker.