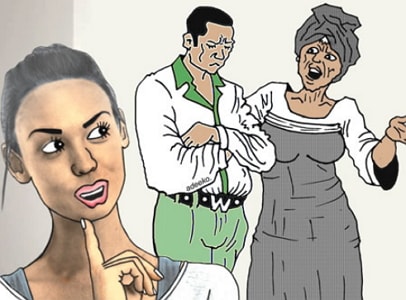 My Husband Lacks Good Manner, I Don't Love Him Anymore – Wife Tells Court
Mrs. Oluwatobi Akande today  told the Alakuko Customary Court, Lagos, that her husband, Kazeem, is quarrelsome and does not provide for their children.
The 29-year-old woman, who is praying the court to compel him to cater for the children, said she was no longer interested in the union.
His actions and those of her in-laws, she said, made her fall out of love with him. She said, she left her matrimonial home in 2016 after they fought.
The woman said:
"He does not take care of me and the children. We fought in November 2016, when my mother-in-law came with my husband's siblings to our one room apartment to stay with us. I accommodated them in September 2015 and treated them nicely but after a while, my mother-in-law started cooking on her own.

"She said I should not cook for them again. I was surprised and I told my landlady who advised I should continue cooking for them.

"But my husband supported his mother and sent me packing the next day. Since then, he has not paid the children's school fees. I foot the bills alone. It was just recently that he gave us N3,000.

"All I want is for him to be catering for his children's needs. He should take care of his responsibility. I do not love him anymore."
Responding, Kazeem said his wife lacked manners, adding: "she is not homely."
He said she neither did house chores nor respect his parents.
Kazeem said:
"There was a day I came back from work and saw her insulting my mother because of kerosene. She said why can't her son buy kerosene? I felt bad.

"I called her discreetly and calmed her down only for her to begin the insults. I have not beaten her before. She left the house on her own with the kids to her maternal home. I even went begging with few of my friends to no avail."