Abuja News
Names Of All Nigerian Presidents From 1960 Till Date: Past And Present Nigerian Leaders And Their Life History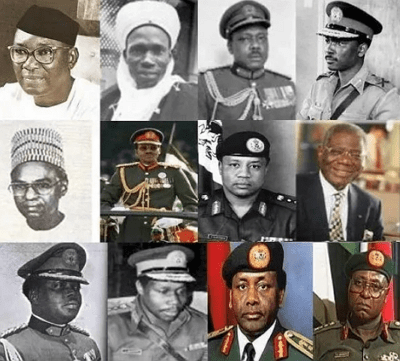 Names Of All Nigerian Presidents From 1960 Till Date: Past And Present Nigerian Leaders And Their Life History
Nigeria gained her freedom from the British colonial rule in the year 1960. The country went on to become a republic in 1963, further freeing itself from external influence. Nigeria is headed by a President.
The office duration of every Nigerian President is a period of four years after which an election is due to take place. The President can be re-elected. But his/her overall tenure should not exceed a period of eight years in office.
Brief Summary Of Nigeria's Presidential Seat
Since Nigeria gained her independence, she has had quite a number of Presidents some civilians and other military heads. The Presidents who have served Nigeria are fifteen in number.
Nnamdi Azikwe was the first Nigerian President. He assumed office in 1960 as the country's Governor-General and in 1963 as the country's President. Sir Abubakar Tafawa Balewa was the then Prime Minister of Nigeria. The office of the President came about with the amendment of the 1960 Nigerian constitution on independence.
With the coup of 1966, Major Chukwuma Nzeogwu attempted to overthrow Azikiwe's government. His coup failed due to a counter coup led by Major General Aguiyi-Ironsi
Major General Aguiyi-Ironsi became the Head of State in 1966; but didn't last as he was assassinated by the middle of that same year. General Yakubu Gowon was then appointed. He was in power till 1975 when he was replaced by General Murtala Mohammed who was assassinated the following year (1976).
General Olusegun Obasanjo was appointed in Murtala's stead in 1976. Under Obasanjo's leadership, the movement for a democratic government for Nigeria which was started by General Murtala Mohammed was completed.
The year 1979 also saw Nigeria take on the federal constitution. The President will now become the overall head of government and Nigerian National Assembly was also made allowance for. This system is still practiced till date.
With the new democratic system put in place, Nigeria appointed its first democratic President after over a decade of military governance. Alhaji Shehu Shagari was sworn into office in 1979 after the elections.
Again the military seized power in 1983, with General Muhammadu Buhari becoming Nigeria's head of state. In a bloodless coup, Buhari was overthrown in 1985 by Major General Ibrahim Babangida. Babangida later handed power over to Ernest Shonekan in 1993.
By the end of 1993, General Sani Abacha overthrew Shonekan's government. Abacha served as the head of state until his demise in 1998. Major General Abdulsalami Abubakar assumed the office of President until 1999 when an election was held.
Olusegun Obasanjo emerged the winner and assumed power as the civilian head of state; an office which held for the maximum period of eight years. After which he stepped down. President Umaru Musa Yar'Adua emerged the winner of the elections of 2007 and assumed the office of President.
He died on the 5th of May 2010. The Vice President Goodluck Ebele Jonathan assumed his role as the President of Nigeria the next day, May 6, 2010 up until 2015.
In the general elections of 2015, Muhammadu Buhari turned up as the winner and was sworn into power making him the 15th President of the Federal Republic of Nigeria.
List Of All Nigerian Presidents From 1960 Till Date And Their Life History
Nnamdi Azikiwe
Dr. Nnamdi Azikiwe served as Nigeria's Governor-General from 16th November 1960 to October 1,, 1963 and then again as Nigeria's President from the 1st of October 1963 to 16th January 1966. He is known as the first President of Nigeria
Azikiwe was born on 16 November 1904 and he died on May 11, 1996. He was a prominent nationalist and was well involved in the movement for an independent Nigeria. He was the first to occupy the office of the President created in 1963.
Nnamdi Azikiwe was a co-founder of the National Council of Nigeria and the Cameroons. He was married twice, the first time to Flora Ogoegbunam in 1936 and again to Uche Ewah in 1973.
Major General Johnson Aguiyi-Ironsi
Major General Johnson Aguiyi-Ironsi was born on 3rd March 1924 and died on 29th July 1966. He is recorded as the first military Head of State Nigeria ever had.
Major Ironsi assumed power through the coup of January 1966. He ruled from 16th January 1966 till 29th July 1966 when he was assassinated.
Aguiyi-Ironsi began his military career in 1942 and earned the rank of Major General in 1965. He was married to Victoria Aguiyi-Ironsi in 1953.
General Yakubu Gowon
The third president of Nigeria, he was in office from August 1, 1966 to July 29, 1975. General Yakubu was born 19th October 1934. He was President during the Nigerian Civil War and is credited to have stopped the separation of the Igbo's from Nigeria. Under his government the three regions in Nigeria we carved out into twelve states.
The coup which brought him into power saw to the death of some prominent figures in Nigeria: Sir Tafawa Balewa, Samuel Akintola and Sir Ahmadu Bello.
General Murtala Muhammed
He was born on November 8, 1938 and died February 13, 1976. General Murtala took over power from Gowon while he was away in Uganda in 1975. He is said to have introduced the popular phrase Fellow Nigerians. He was a well celebrated leader.
The Federal Capital territory was moved from Lagos to Abuja and seven additional states were created under his regime. Murtala was assassinated in 1976 and his second in command Olusegun Obasanjo assumed this office.
Olusegun Obasanjo
He was born on the 5th of March 1937. He has served as Nigeria's President twice. Obasanjo served as the 5th President of Nigeria as a military Head of State from February 13, 1976 to October 1, 1979. Olusegun Obasanjo finished the work of his predecessor General Murtala by creating a democratic government in 1979 and handing over power to Alhaji Shehu Shagari.
He was also elected as Nigeria's 12th President, as a civilian head from the May 29, 1999 to May 29, 2007.
Alhaji Shehu Shagari
He was born on 25th February 1925 and passed away on 28th December 2018. He served from 1st October 1979 to 31st December 1983. He is the sole president of the Second Republic.
Power was handed to him by Olusegun Obasanjo. Shagari was overthrown by a military coup led by Muhammadu Buhari in 1983, based on accusations of fraud and corruption. Alhaji Shehu had three wives namely Amina, Aishatu and Hadiza Shagari.
Muhammadu Buhari
Muhammadu Buhari was born December 17, 1942. He too has also served twice in the office of President of Nigeria; first, as the 7th Nigerian President as military leader. He took power from Alhaji Shehu Shagari in 1983 up until August 1985, when he was overthrown by another coup.
Muhammadu Buhari, now a retired Major-General is currently serving as Nigeria 15th President, an office he assumed in 2015. Buhari contested for the office of the President every election year since 2003, until his victory in 2015.
General Ibrahim Babangida
Ibrahim Babangida assumed office as the 8th Nigerian President through the bloodless coup of 1985. He is said to have had a hand in almost all the coups of Nigeria prior to that time. Babangida seized power from Muhammadu Buhari on 27th August 1985 and surrendered power on August 26, 1993 to Ernest Shonekan.
Babangida was born August 17, 1941. He is recorded to have been instrumental to the creation of eleven more Nigerian states; two in 1987 and the remaining nine in 1991. He is also credited to have moved the Federal Government Seat of operation to Abuja from Lagos. He was married to Maryam King from 1948 until her death in 2009.
Ernest Shonekan
He assumed office 26th August 1993 and was overthrown on November 17, 1993 by General Sani Abacha. Ernest Shonekan was born on the 9th of May 1936. Shonekan is a lawyer as well as politician. His position as President was meant to be a temporary arrangement. Shonekan is credited to have freed several people imprisoned by his predecessor.
General Sani Abacha
Sani Abacha was born September 20, 1943 and he died June 8, 1998. He reportedly played prominent roles in the 1966, 1983 and 1985 coup plots which took place. General Sani Abacha is said to have earned the rank of a full star General and was the very first soldier in the Nigerian military to achieve that.
He was termed as a dictator by some and celebrated by others. Sani Abacha created six more Nigerian states, bringing the number to thirty-six States. Abacha was married to Maryam Abacha
Abdulsalami Abubakar
He took the position of the 11th Head of State of Nigeria. He was born on the 13th of June 1942. After the death of General Sani Abacha, Abdulsalami assumed office from the 9th of June 1998 till the 29th of May 1999. He handed over power to Olusegun Obasanjo, the winner of the 1999 general elections.
Umaru Musa Yar'Adua
He was born on the 16th of August 1951 and died in office on the 5th of May 2010, due to a health related issue. Before becoming the 13th President of Nigeria, he had first served as governor in his state, Kastina. He assumed office on 29th May 2007, until his demise in May 2010. Turai Yar'Adua remains the recognized wife of Musa Yar'Adua.
Goodluck Ebele Jonathan
Goodluck Jonathan was the Vice President of Musa Yar'Adua. Goodluck Jonathan assumed office upon the death of the then Nigerian President. He was sworn in on the 6th of May 2010 and ruled until 29th May 2015. Jonathan lost the general elections of 2015 to Muhammadu Buhari.
He is still being praised for honorably accepting his 2015 election defeat. Jonathan was deputy governor of his State Bayelsa in 1999. He went on to become the governor in 2005, Vice President in 2007 and finally President of Nigeria in 2010. Goodluck Jonathan was born November 20, 1957. He is married to Patience Dame Jonathan.
Muhammadu Buhari is the current President of the Federal Republic of Nigeria and in accordance with the constitution will most likely remain in power till the year 2023.