Nollywood
Nigerian Actor Muyiwa Ademola Biography & Net Worth.. Life Story & Family History Of Popular Yoruba Filmmaker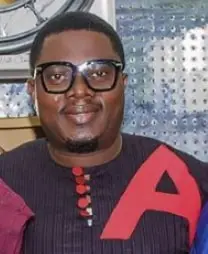 Muyiwa Ademola popularly known by a significant percentage of his fans as 'Mr Authentic' is a 47-year-old Nigerian Nollywood actor, film-maker, movie producer and film director. He is very famous, especially in Nigeria, for his appearances in numerous commercially successful Nollywood movies over the course of his career which has spanned over two decades. However, Muyiwa
Ademola did not magically attain his height of fame and success, he got there through his hard work and dedication to his career.
On the 26th of January, 1971, Muyiwa entered this world through the family of Isaiah and Rebecca Ademola, his father and mother respectively. He had very humble beginnings as his parents barely had enough but he did not allow this to deter his zeal to do something better with his life. 'Mr Authentic' before he was dubbed that nickname had his primary school education in Abeokuta, the capital of Ogun State, where he was born before he proceeded to St. David's High School at Molete in Ibadan where he obtained his West Africa Secondary School Certificate, WASSCE.
However, it was not until thirteen years after he completed his secondary school education that he would enter the four walls of a university as he student.
Muyiwa has explained the reason he had to wait more than a decade before going to the university in several interviews. According to him, the delay was as a result of his parents inability to afford his school fees. Notwithstanding, Muyiwa was inexorable in his pursuit of higher learning and although it took him more than a dozen years, he finally enrolled in the University of Ibadan where he obtained a Bachelor of Education degree in Adult education.
For the acclaimed actor, Muyiwa, learning did not end there, he signed up for the Nigerian film industry through Charles Olumo who is also known as 'Agbako' who then used to live in Muyiwa's hometown, Abeokuta and this his singular action connected him to S.I. Ola, a Nigerian movie director who schooled him in the art of acting and movie production. Muyiwa's acting training pushed him into the world of acting as a full time career and it did him a world of good as we can see today.
In 1991, when Muyiwa Ademola was just 20, he began acting as a full time actor and a short four years later, he became a movie producer when he produced into a movie, 'Asise' meaning Blunder in English, the first movie script he ever wrote. The production project was sponsored by 'Dibel' who deals in generating sets. The movie was a commercial success pushing Muyiwa further out into the spotlight and subsequently on to greater heights.
His actions on the movie set did not end there however. Muyiwa went to star in, director and produce quite a number of other Yoruba Nollywood movies. Such movies include 'Ile', 'Ori', 'Ami Ayo', 'Fimidara Ire', 'IranseAje' and 'J J' amongst a host of others. For his works, he has won numerous awards including the best indigenous film at the maiden edition of Africa Movie Academy Awards(AMAA). That edition of the AMAA had the likes of Hollywood's Danny Glover present. Muyiwa has also been nominated for other awards such as the Africa Movie Academy Award for Most Outstanding Indigenous Actor amongst others.
However, it is said that behind every successful man is a woman. Muyiwa is not all about his acting career as he also has a family who matters a lot to him. He is currently married to Omolara Ademola whom he tied the knot with in 2006. The couple have three children together, two boys and a girl, and in addition Omolara is mother to the twins of Muyiwa whom he had before he met or even married Omolara. Although Muyiwa has never publicly revealed the identity of his twin baby mama, Omolara accepted his twins, who were 7-years-old at the time, as her own and has taken care of them ever since.
Muyiwa and Omolara's love story started about four years before they married after they met in Abeokuta where they were introduced to each other by a mutual friend. According to Omolara, it was love at first sight although she had certain misgivings about their union in holy matrimony because he already children, his twins, out of wedlock and this bothered her. However, their love for each other must have triumphed as they said their vows to each other a little after four years of their first meeting.
His career in the acting world continues to grow and he can be considered a veteran in the business. His online presence is quite strong too as he has over 800,000 followers on his Instagram page. The thespian who has appeared in and has been involved in the production of over a hundred Yoruba Nollywood movies has definitely paid his dues to the entertainment world and deserves to be more decorated. While celebrating his 47th birthday earlier this year in January, he reminisced, in a post on his Instagram page, about how he came from a humble background and his father could not boast of a television set until he was way out of secondary school and he was very thankful for how far he had come.
He is a force to be reckoned with the acting world of Nollywood as he is a man who has given his time, energy and financial resources to the progress and development of the Nigerian film Industry. And although he has been awarded several awards, he looks like he is still well on his way to winning several others. Muyiwa 'Mr Authentic' Ademola still has several projects in the pipe which he is just waiting to release to the public and his fans can absolute not wait for the release date as their expectations are high and building.
Although, his passion for acting was not from a very young age, when his interest was directed towards acting, he quickly pulled himself together and gave it his all and it paid off so well for him. Mr Authentic is now reaping the good fruits of his hard work and dedication and he is very happy with himself and his family.
His estimated net worth is $800,000.