Crime News
Nigerian Lawyer Armed With Bulletproof Charm Stabbed With Poisoned Dagger By Security Guards [PHOTOS]
Unpaid Security Guards Attack Popular Lagos Lawyer Prof McCarty Mbadugha In Lekki Phase 1 As Bullets Refuse To Penetrate Him
Prof McCarty Mbadugha, Lagos Lawyer Using Bulletproof Charm Stabbed With Poisoned Dagger By His Security Guards At His Office In Lekki Phase 1 Lagos
Some suspected assailants last week attacked a Lagos lawyer, Prof. McCarty Mbadugha, at Lekki Phase 1.
It was gathered that the incident occurred around 3:15pm on October 14 when Mbadugha went to his office to pick documents for cases he had outside Lagos.
According to a family source, the lawyer, who had guards attached to him from Strongcity Security Services Limited, had barely entered his office when an unknown man armed with a gun, threatened to shoot him.
But the police alleged that Mbadugha was attacked by guards from the security firm, who were being owed salaries.

Police spokesman Chike Oti, a Chief Superintendent (CSP), said two of Mbadugha's attackers have been arrested, adding that investigation into the case was on.

He alleged:

"The case is under investigation. It has been transferred to the Federal Special Anti-Robbery Squad (FSARS) Ikeja. It is not true that assailants attacked him. What we have established is that guards attached to his office were the ones who carried out the attack.

"They were unhappy over non-payment of salary. Already two of them have been arrested. Investigation is on."

Narrating how the incident happened, the family source said: "When he got to his office that day, the guards attached to him from the company were there. He was attended to by one of the guards before he entered his office.

"As soon as he entered, an unknown man, armed with a gun, stormed his office and threatened to shoot him. He offered the man money and pleaded for his life, but the man was adamant.

"He attempted to shoot him three times, but the gun did not discharge. Then, the armed man called on his accomplice, who was outside. Both brought out cutlasses and daggers, which they used to stab Prof. Mbadugha."
"He was stabbed in the abdomen and sustained multiple lacerations in his right hand, head and back. His attackers fled with his laptop bag, abandoning him to bleed to death.
"Luckily, he got out of the office premises and begged passersby to take him to hospital."
It was learnt that a resident, who was driving past, stopped and helped the lawyer.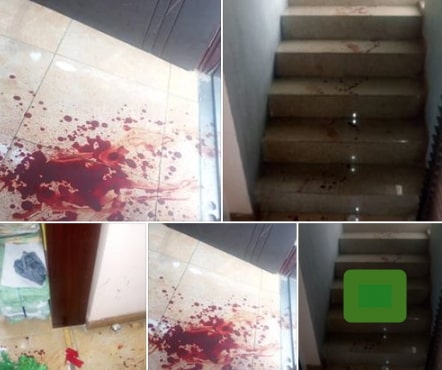 The unnamed resident, it was gathered, disclosed that he saw two young men fleeing the street. He said he suspected that they might be his attackers.
Consequently, the suspects were pursued by guards attached to the estate. The one who attempted to shoot Mbadugha was arrested and taken to Maroko Police Station, Lekki. Mbadugha's laptop, IPhone, the bag containing his cheque books and other documents were recovered from him.
While neighbours chased the suspects, others took the lawyer to a nearby hospital for treatment, said the source.