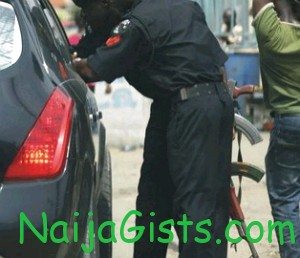 Jan 15, 2013 – Nigerian Police Officer Arrested For Stealing & Selling Seized Motorcycle In Lagos
A police corporal attached to the Ikorodu Divisional Police Station, Igbogbo Road, Ikorodu Area of Lagos State, South-west Nigeria, Goroye Folagbade, has been arrested and detained for allegedly stealing and selling a motorcycle belonging to Saheed Owolabi.
The Operation Officer of the Police Division, Ebuwa Vincent, was said to have seized the motorcycle from Saheed a few days after Christmas because he violated traffic law but could not produce the motorcycle afterwards, claiming that it had been taken to Alausa whereas the motorcycle had been stolen and sold.
After several failed attempts to recover the seized motorcycle, Saheed eventually found his motorcycle with another commercial motorcyclist, Ismail Olomitutu, at Anibaba area of Ikorodu on Thursday, 10 January, 2013 and he raised an alarm, saying he was the rightful owner of the motorcycle.
P.M.NEWS gathered that Ismail was interrogated before he eventually confessed that it was one of the station guards, Goroye Folagbade, who sold the motorcycle to him for N55,000.
Goroye later confessed to have committed the said criminal act when he was summoned by the Divisional Crime Officer, DCO of Igbogbo Divisional Headquarters after which he was arrested and detained at the same police station.
According to P.M.NEWS sources, "Goroye does not know how to ride a motorcycle so, he probably must have asked Ismail to come for the motorcycle inside the police station when no one was suspecting. Even the OPS in charge may have connived with him to dispatch the motorcycle because he lied to the owner of the motorcycle that it had been taken to Alausa."
The police corporal who spoke with P.M.NEWS correspondents over the phone from detention, begged them not to write about the incident.
When Goroye was told that the Area Commander, ACP Amos Omuiyadun, was aware of the matter, he continued to plead with the reporters to help him.
"I'm ruined, please help me out. Don't let me end here," he said from the police cell.
Sources close to Goroye also revealed that the Police Corporal was planning his wedding introduction with fiancee who was said to be heavily pregnant.
The Public Relations Officer of the Lagos State Police Command, DSP Ngozi Braide, when contacted, claimed not to be aware of the matter and promised to get back to our reporters. As at press time, the PPRO refused to give any reply to the message sent to her about the incident.
[PMnews]