Anambra State News
Nigerian Surgeon Dr Dumeje Okafor Rescues Boy Whose Skull Was Cracked By Master In Anambra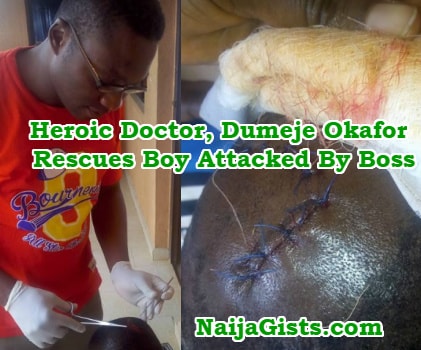 Nigerian Surgeon Dumeje Okafor Performs Free Surgery For 10 Year Old Apprentice Attacked By Master In Anambra State
Master Cracks 10 Year Old Apprentice Skull In Anambra For Disobeying Him
One of the heroic surgeons of our time, Dr Dumeje Okafor on Tuesday rescued a young boy in Anambra state .
Dr Dumeje, the CEO of Our Dr King Foundation saw this boy at a chemist shop yesterday while he was going for his evening walk.
The 10-year-old apprentice allegedly disobeyed his master who used an object to crack his skull.
He was rushed to a chemist shop where Dr Okafor took over and stitched up the cracked skull.
Here is what he wrote on Facebook with the photos of the victim.
Unsung heroes like Dr Okafor are much more valuable than the politicians who promise us good life only to end up looting us dry.
Kudos to him and others saving lives around the world.