Breaking News
Ijebu-Ode-Ore Accident: 33 Women Drown In River, Driver Slept Off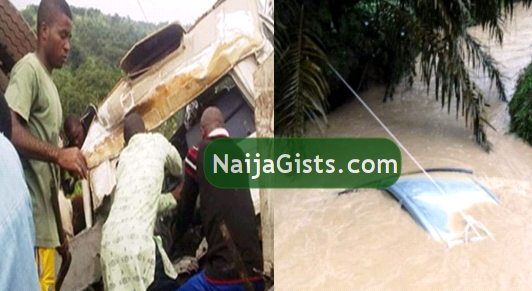 Oct 20, 2012 – Ogbere-Ijebu Ogun State Accident: 33 Women Drown In River, Driver Slept Off
This sad accident happened yesterday at River J4 very close to Ogbere off Ijebu-Ode-Ore Expressway in Ogun-State. naijagists.com
We learnt a passenger bus carrying 33 women to a burial from Lagos state to Benin city plunged into the aforementioned river leaving 33 passengers drowned.
Mr Cecilia Ala, FRSC HOO in Ogun said the accident happened at 12noon after the driver of the 36-seater coastal bus slept off.
3 of the passengers were rescued while the other 33 died of drowning.
''We also hired a crane to pull the vehicle from the driver but after trying from 12 p.m to 6 p.m, we could not find the bus and other victims apart from the three.

''All other efforts to locate the vehicle and the victims proved abortive, the operation will continue over the night as we are not going to relent in our efforts," Alao said.
As at the time of this report, 3 survivors of this horrific accident has been taken to an hospital in Ore, Ondo State for medical treatment.