Crime News
Ogun NNPC Pipeline Vandal Dies In Hospital After Confession As Death Toll Of Ogere Pipeline Explosion Hits 3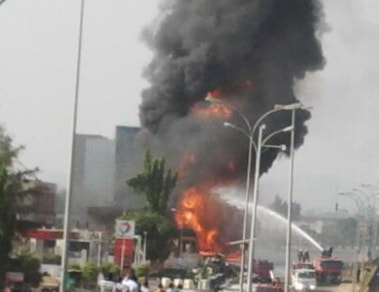 Animashaun Abiodun, the only survivo of the pipeline explosion from a vandalised pipeline of the Nigeria National Petroleum Corporation (NNPC), has died following a severe burn.
The 28-year-old died on Saturday at an undisclosed public hospital in Ogun State where he was receiving treatment.
He was rescued alive last June 8 along with corpses of two others by the Operatives of the Nigeria Security and Civil Defence Corps (NSDC) while writhing in pains at the scene of a fire outbreak from a ruptured NNPC pipeline in Ogere Express way area of the state.
He was taken to the intensive care unit of the Olabisi Onabanjo University Teaching Hospital, Sagamu and later moved to another hospital in Abeokuta, the state capital, for security reason but died on Saturday.
His alleged accomplices – Lateef Ayoola and another identified as Biano, had died earlier at the scene of the pipeline fire.
Before his death, Abiodun confessed to the Operatives of the NSCDC that most weekends, he would take six or seven jerry cans to steal fuel from vandalised NNPC pipelines and that the money realised from selling the product was being used to "do ajo (contribution) and also give himself a treat."
The Commandant of the Nigeria Security and Civil Defence Corps(NSDC) Ogun State Command, Ayodele Philip, who disclosed this to reporters in Abeokuta, on Monday, said some personnel of a private security firm contracted to secure the Ogere stretch of the NNPC pipeline spotted Abiodun and two others and called the attention of the Operatives of the NSCDC to it.
Ayodele said the until his death, the suspect through confession, was helping the Command with valid information about the criminal activities of the pipeline vandals in the state
"Abiodun had been victim of fire explosion (in the past) during some of his illicit acts and nemesis only taught him a bitter lesson having refused to learn in a hard way.

"He also confessed to have been involved in series of pipeline vandalism alongside his deceased friends to the extent of getting burnt on some occasions yet they were not deterred until this their untimely death.

"Abiodun before his demise also confessed to have started his nefarious acts as a teenager and that the whole stuff seems more of a conscription into a cultic group from which it is almost near impossible to withdraw from it once one is taken in," Ayodele said.