Crime News
Photos: Nigerian Mopol Police Officer Who Killed Soldier In Delta State Has Been Arrested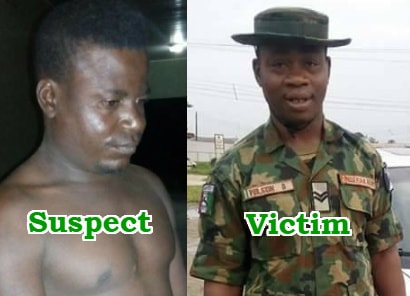 The monster who killed his fellow security operative at a Shell oil facility in Odimodi community, Burutu LGA of Delta state over the weekend has been arrested.
The suspect, a mobile policeman (mopol) whose identity is yet to the revealed opened fire on a soldier after members of the Joint Task Force deployed to guard the facility went on a patrol.
The duo were first spotted when they engaged each other in a heated argument before shots rang out.
This policeman after killing the soldier snatched his rifle and fled the community.
He was apprehended from his hideout today in Warri.
He has been handed over to the Delta State Police Command for investigations.
See more photos of the suspect and the victim below