Entertainment News
PSquare Latest News Today: Untold Story Behind Peter & Paul Okoye Breakup…Why Jude Okoye Refused To Accept Lola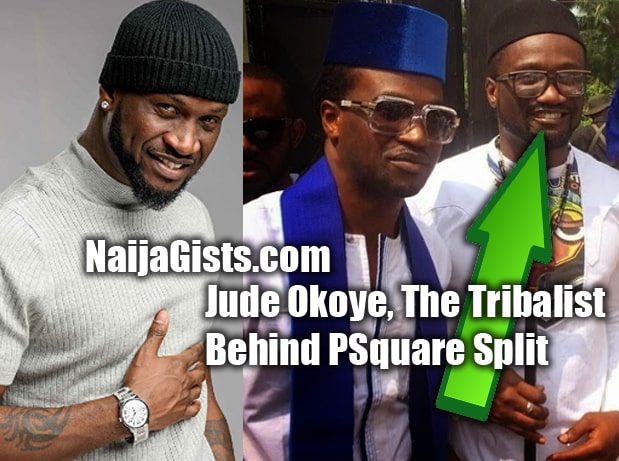 PSquare Latest News Today: Peter & Paul Okoye Breakup, Why Jude Okoye & Brother Refused To Accept Lola Omotayo
Any Chance Of Reconciliation For PSquare In 2019???… Read On
For some reasons, despite the ugly or, rather, disgusting events that caused and trailed the separation of the famous music duo, P'Square, the group is still very much alive in the minds of Nigerians. And many still hope that one day, just day, they'd get back together. In fact, some believe that they are actually back to together. Is this true? You'll know more in this article.
The infamous breakup of P'Square is seen by many as a trial, aimed at testing their individual popularity and relevance in the Nigerian music industry, as well as to determine who, among the duo, was actually the brain of the outfit, during their heyday.
In any case, there is hope that after the whole "point-proving endeavours", the brothers would finally come back to their senses and give the people what they actually want: the resurgence of the evergreen P'Square, and not the "dancer" Peter Okoye or the "singer" Paul Okoye, as separate entities.
In this piece, we'll be bringing you the latest news and trends about the brothers, particularly how fast they are both keeping up in the industry, as well as the validity of the rumour of them getting back together and lots more. Read on!.
P'Square: The Breakup
First off, let us take a brief review as to what caused (and contributed) to the infamous dissolution of the universally-loved music duo.
To a shallow mind, typical of many, the infamous separation of P'Square was caused by the duo's respective marriages, as they broke up only a couple of years after their respective weddings. A key person of interest here is Peter Okoye's wife, in person of Lola Omotayo-Okoye, whose marriage to Peter generated serious tensions, which consequently resulted in the eventual dissolution of P'Square.
Lola Omotayo's union with Peter was met by serious rejection from Peter's family, primarily due to the fact that she's many years older than Peter and subtly due to her different cultural background. As gathered, Lola Omotayo is about 6 or 7 years older than her husband, and while this doesn't mean a thing to Peter, it means a lot to his family, particularly his elder brother, Jude Okoye. In fact, there were claims that the singer's mother (now late) was not in support of the union.
While Peter, nonetheless, dared his family and went on with the marriage, the aftereffects have been somewhat devastating; the highlight of which was the infamous breakup of the brothers. However, not to disregard the "Lola Omotayo's factor" on the dissolution of P'Square, there seem to be more factors in play, from a professional stand point.
As gathered from several entertainment analysts, the breakup of P'Square has more to do with the disgruntlement of one against the supposed inferiority of the other. These reports insinuated that Paul (Rude Boy) saw himself as somewhat superior to his other half (Peter), who is better known for his dance and artistic display, and less of a singer compared to his brother.
Unfortunately, in the midst of all these, the brothers' consolidating factor, their elder brother – Jude – picked the side of Paul, which gave Peter the impression that there is a conspiracy against him. And having to deal with such from his blood brothers is not ideal; hence, the call for dissolution, which led to the eventual separation of the brothers.
Round up; Peter is on a mission to prove a point – that he is, in fact, a top singer, without his twin brother. And Paul, on the other hand, who have kept the "P'Square style" alive through his songs, is also seeking to prove that he is, indeed, the main voice of P'Square, as widely proclaimed. The question now is: after the whole brouhaha, is there a chance they get back together? We can only hope.
Psquare's Peter and Paul Okoye: Are They Back Together?
Simply put, the answer is NO; Peter and Paul are not back together. In fact, they are kind of growing further apart with the recent events. Nevertheless, as the popular saying goes – "blood is thicker than water"; hence, the possibility of the brothers getting back together, though slim, is ever present. And hopefully, sooner rather than later, the wish of many music lovers across the globe would be fulfilled.
However, to be realistic, recent events indicate growing dissension between the brothers, and we'll be looking into some of these events in the next section of this article.
P'Square Latest News
 The Angola Show Controversy
About a week ago, on May 25, 2019, Peter Okoye dropped a post on his Instagram handle; threatening to sue an Angola-based show promoter handling Paul's music concert/show in Angola. This came after the promoters featured Peter on the show's adverts, in a bid to attract more viewers for the show. And this was done without the artiste's knowledge.
According to Peter, the promoters "will hear from his lawyers", and if he's gone ahead with the lawsuit, he may become embroiled in an ugly court case with his brother. Hopefully, this would be settled out of court, so as not to reignite the family feud.
Peter Okoye's Priority Claim: Why His Brothers Refused To Accept His Older Wife
About a month ago, in an interview with Nancy Isime on HipTV, Peter indirectly validated the contribution of his wife to P'Square's split. In his words, he emphasized that he would not take his brothers over his own family. This suggests that there is some love lost between Peter's brothers and his wife, Lola. Hence, the singer is faced with a difficult situation; having to choose between his brothers and his own family. And he's since chosen his wife and kids, as any "real man" would.
This claim, if nothing, further indicates that: so far there's Lola in the picture, the possibility of P'Square's reunion looks very slim or even nonexistent, unless the brothers (Jude and Paul) finally accept and respect Lola, as demanded by Peter.
Nonetheless, Peter claimed that he has nothing against his brothers, as they are still his blood. He, however, stressed that he's done with family business, which indicates that getting back together (with his brother) may never happen.
P'Square Breakup: A Lesson to Many
P'Square's infamous breakup has served as a lesson to many. And the idea that even twin brothers can hold so big a grudge against each other has propelled many (of their likes) in the industry to amend their mode(s) of operation.
In a recent twist which came a couple of days back, upcoming music duo – Apex & Bionic (AB) – in an interview, revealed that the breakup of P'Square has taught them a lesson, and it has served as a guide to better shape their relationship and how to react to challenges.
According to the brothers (AB), they would ensure that no third-party (as in the case of Jude Okoye) is allowed to meddle in their affairs. More significantly, they maintained that their romantic affairs would not be allowed to create bridges between them (unlike Peter and Paul).
Would Peter and Paul learn from their own mistakes; get back together and come back even stronger? We can but hope!
How Old is Peter and Paul of P'Square?
While the brothers grow further apart by the day, their maturity has been questioned by many. This is because, it comes as a shock to many that two grown family men cannot settle their differences or keep their feud off the media.
Well, not to surprise you, the twin brothers, going by their age, can be categorized as "middle-aged" men and not young lads. The twin brothers were born on 18th November, 1981, which makes them 37 years old. And, in about six months time, by November 18 later this year, they would be only two years shy of 40.
Mr. P and Rude Boy: Who is the Senior?
As emphasized earlier, Mr. P, whose real name is Peter Okoye, and his brother, Rude Boy, whose real name is Paul Okoye, are twins (born on the same day). Therefore, as twins, the brothers are age mates and one is not older or younger than the other.
P'Square Brothers and Sisters
Peter and Paul have a total of six brothers and sisters. Apart from their renowned elder brother, Jude, they have other elder and younger brothers and sisters.
P'Square's brothers include Henry Okoye, Ifeanyi Okoye, Tony Okoye and the more popular Jude Okoye. In the midst of these men are two sisters, including Mary Okoye, who is married to Nollywood actor, Emmanuel Emordi, and Lilian Okoye.
Peter and Paul Okoye Wives
As pointed out earlier, P'Square's breakup came shortly after the brothers got married. And while it's unclear whether this was the ultimate cause of their breakup, it surely was a contributing factor. However, despite the differences between the brothers, their wives share a rather close bond or at least, they've shown enormous respect for each other.
Peter's wife, Lola Omotayo-Okoye is a biracial Yoruba woman; with a Russian mother and a Nigerian father.
She is a top class marketing executive, with a brand of her own. Her union with Peter, which spans over a decade, has, so far, produced two beautiful kids, named Cameron and Aliona.
Paul's wife, Anita Isama-Okoye, on the other hand, is a Niger-Deltan from Rivers State. And she's a trained lawyer and a Business Administrator (with an MBA). Anita and Paul have been together for about 15 years (since 2004); however, they only got married 5 years ago, in 2014. Their union has produced three lovely kids – Andre and a set of twins, named Nathan and Nadia.
For weekly celebrity update, stay tuned with NaijaGists.com Celebrity Column.