Biographies
Life History And Biography Of Paul Okoye: His Net Worth, Songs, Wife, Siblings & Family History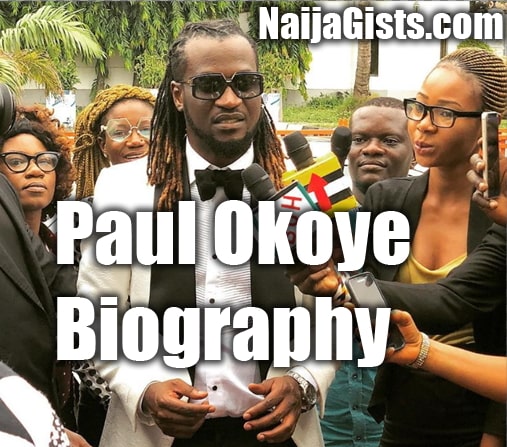 Paul Okoye Biography: Net Worth, Wife, Siblings & Family History
Today, we bring you the "life history and biography of Paul Okoye", detailing his life and family history, net worth, siblings and romantic life.
Paul Okoye is the second half of iconic music duo – P'Square – who dominated the Nigerian music scene for well over a decade, before their infamous separation some years back.
However, despite the separation, Paul, just like his twin brother, has made significant progress in his solo adventure. In fact, he has managed to rack up a number of hit songs, which have been dominating the airwaves in the country.
Follow us, as we show you insights inside the life of the famous music star; right from his early days to his rise in the industry to the present day. Read on!
Paul Okoye Biography
Paul Okoye, who is now known as Rude Boy or King Rudy, was born 37-and-half years ago, on 18th November, 1981. He was born into the family of late Mazi (Mr.) Moses and late Mrs Josephine Okoye.
Paul was born in Jos and he lived most of life in the city. He (alongside his twin brother) attended St. Murumba Secondary School, a popular Catholic school in the north central city. During his time in St. Murumba, he (and his brother) joined the school's entertainment group, with interest in drama and music. This served as the impetus, which inspired the singer's passion for music, and over time, he and his brother became known for their uniqueness, particularly their ability to perfectly imitate the likes of Michael Jackson and a host of other top foreign music stars and dancers.
While Paul and his brother were making waves in their school, they decided to take the bold step, and went on to set up a music group, with the help of some friends. The group was named MMMPP, which stands for "M' Clef, Melvin, Michael, Peter and Paul".
MMMPP took the city of Jos by storm, as they became an emerging force within the city. And with their Michael Jackson-themed dancing style, they were able to get a lot of attention, which got them admirers in droves.
However, the sustained rise MMPP (after M'Clef left), was cut short by Paul's academic ambition. In 1999, the music star and his brother secured admission, to study Business Administration, at the University of Abuja. This resulted in the untimely collapse of MMPP and a new chapter was opened.
Surprisingly, Paul's admission into the University of Abuja further propelled his career (and that of his brother). Barely two years into his four years programme at the University, he caught a big break, which turned out to be a major turning point in his music career.
In 2001, Paul and Peter (as a duo) contested at a popular music exhibition tagged Grab da Mic, and as it turned out, they emerged victorious. Their victory at the exhibition served as the beginning of greater things to come. And shortly after their victorious performance at Grab da Mic, Benson and Hughes (a prominent promotion firm), offered Paul (and his brother) a promotion contract, which bore their first album titled Last Nite, The album was released in 2003,
Between 2003 to 2013, Paul and Peter (as P'Square) maintained a solid reputation in Nigeria and beyond, with their 7 studio albums topping the charts among their contemporaries (albums released around the same period).
The brothers released their last album – Greatest Hits – in 2013, and the album launch marked the beginning of the end for the group. Few years down the line, they both went their separate ways.
However, despite the separation, Paul remains one of the biggest and highest paid music artistes in the country and Africa at large.
Paul Okoye Songs
Paul Okoye has somehow managed to earn more applauds, as being the better musician (compared to Mr. P), since the dissolution of P'Square. He has released quite a number of hit tracks, most of which are reminiscent of the old – glorious – days of P'Square. In fact, because of this, many believe that Paul was actually the brain behind most of the hit songs of P'Square, during their heyday.
Below is a summary of Paul Okoye's songs, since the dissolution of P'Square:
Reason With Me (2019)
Tonight (2019)
Alone (2019)
Downtown (2018)
Double Double (2018)
Somebody Baby (2018)
Together (2018)
iFAi (2018)
Reality (2018)
Chizoba (2018)
Nkenji Keke (2017)
Fire Fire (2017)
Call Heavon (2016) 
Paul Okoye Wife
Paul Okoye is happily married with kids. He got married to the love of his life, Anita Isama, five years ago, on March 22, 2014. The wedding held at Aztech Arcum Events, Port Harcourt, Rivers State.
As gathered, the couple met some time in 2004, during their days together at the University of Abuja, and they started dating shortly after. According to Paul, Anita was (and is still) his first love.
Their union has, so far, produced three kids; two boys and a girl. The first born is known as Andre, and he was born in April, 2013 (a year before their marriage). The other two kids – a set of twins – are known as Nathan and Nadia, and their birth came some four years after Andre's birth.
However, despite the fame and attention Paul commands, his wife prefers the calm, low-key, lifestyle. And she has been able to hide critical information about herself from the media.
Nevertheless, we've been able to unearth some key pieces of information about her, some of which we'll be looking at in the subsequent sections.
Anita Isama Education and Career
Anita Isama holds a degree in Law. She also has a MBA (Master of Business Administration). And while it's unclear whether she practices as a Lawyer (or not), she is better known as an entrepreneur and a philanthropist.
Is Anita Isama Okoye Igbo?
One of the mysteries surrounding Anita Isama's life is her tribe. The question many have been asking is: is Anita Isama Igbo? If not, which tribe is she from?
However, NaijaGists.com source gathered that Anita is not Igbo. She is, in fact, a Niger Deltan, who hails from Rivers State.
How Old is Paul Okoye Wife?
As pointed earlier, not much is known about this lady, and this includes her age, as there is no credible record of her age on the internet. However, as it has been deduced, Anita is currently 31 years old (or would be later this year).
According to Paul, Anita was a 16-year old Jambite when they met in 2004. Going by this information, it is safe to say Anita was born either in 1988 or 1987.
 Paul Okoye Siblings
Paul Okoye was raised in a fairly big household. He was born and raised in a family of ten, with seven siblings and two parents. Of all Paul's siblings, five are men – Jude, Peter, Henry, Tony & Ifeanyi – while the remaining two are women – Mary and Lilian.
However, out of seven siblings, two take significance, and these include Peter (Paul's twin brother) and Jude (his elder brother). The life and career of Paul have been shaped, one way or the other, by the aforementioned duo.
Paul owes much of his musical prowess to his twin brother (and vice versa), as they've been performing together as one since their days together at St. Murumba Secondary School in Jos. In fact, they got admitted into the university to study the same course (Business Administration).
In the same vein, Jude has been the glue holding the duo together; piloting their progress in the music industry, up to the very top of the log.
However, for some reasons, the love between these three siblings is lost. And despite the blame game going round, each of them has his fair share of the blame.
In a nutshell, while Paul has a total of seven siblings, his story is not complete without mentioning two of these siblings, notably his twin brother and fellow music star – Peter Okoye, who is fondly called Mr. P by his admirers, and Jude Okoye, his elder brother, better known as Engees.
 Paul Okoye Net Worth
Paul, together with his twin brother, dominated the Nigerian music industry. And for their decade long exploits on the beats, they were recognized by relevant bodies, in terms of laurels, awards and more significantly, endorsements. With these, coupled with their album sales and shows earnings (both home and abroad), they were practically the richest at the time.
However, since 2015 or thereabout, when Paul and Peter went their separate ways, they've lost their status as the most decorated and highest earning duo in the country. Nevertheless, despite their split, Paul (and Peter) remains one of the richest entertainers in the country.
And while he's not been able to keep up with his twin brother (Peter) in terms of popularity and endorsement deals, he has managed to stay ahead in the area of music production.
Today, Paul Okoye's net worth has been estimated slightly below that of his brother. In figures, he's worth in the region of $6 million.