Biographies
Nigerian Musician Peter Okoye, Mr P Biography: Net Worth, Wife, Siblings & Life History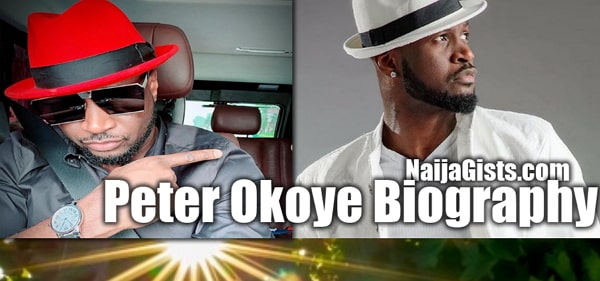 Nigerian Musician Peter Okoye Mr P Biography: Networth, Wife, Siblings & Family History
This article brings you the life history and biography of Peter Okoye. Herein, we'll be looking into his personal life, net worth, life, family history and children among others.
The infamous dissolution of P'Square is, without doubt, one of the costliest splits in the history of Nigerian entertainment. It is one many Nigerians (home and abroad) are yet to recover form. In fact, many still hope that one day, the music duo would settle their differences and get back together.
And while the duo – Peter and Paul – have since moved on, the former (Peter) has somewhat managed to stay ahead, particularly in terms of wealth and popularity.
Hence, in this article, we will be looking into the life and career of Peter Okoye, who is popularly called Mr. P.
Peter Okoye Biography: Early Beginnings & Rise to Stardom
Peter Okoye, whose stage name is Mr. P, was born alongside his twin brother – Paul – on November 18, 1981. He was born in the North-Central city of Jos, Plateau State, and went on to spend most of his childhood and adolescent days in the city
The music star, alongside his twin brother, attended St. Murumba Secondary School in Jos, where they reportedly discovered and honed their passion for music. As gathered, Peter (and his twin brother) joined the school's music and drama club, And over time, they became famous for their near-perfect imitation of prominent musicians like Michael Jackson and Bobby Brown among others.
Later on, Peter, his brother and three other friends set up a music/dance group, which they named MMMPP. And it took only a short while before they started making waves; playing at social functions, school occasions, and other local ceremonies within the city of Jos.
In 1999, Peter (and his brother) secured admission to study Business Administration at the University of Abuja. This, surprisingly, further aided his career, as he and his brother were able to get the exposure they need.
A major turning in Peter's career came two years after he got admitted into the university, in 2001, when he and his brother (as P'Square) emerged victorious at the "Grab Da Mic" music exhibition. Their victory at the competition caught the eyes of a music promotion firm known as Benson and Hughes, who went on to sponsor their first album titled Last Nite. This set them up for what is to become a highly illustrious career in the music industry.
Peter Okoye and his brother, under the name P'Square took the Nigerian music scene by storm, and for the next one-and-half decade (2001 to 2013), they released a total of 7 studio albums.
While the duo has since gone their separate ways, Peter has managed to stay ahead. So far, he has managed to get more endorsement deals, more social media followership and popularity. Ultimately, he has been able to earn more money than his twin brother since their infamous separation.
Peter Okoye Siblings
While Peter Okoye has done significantly well for himself, his story is incomplete without his twin brother – Paul Okoye – and his elder brother – Jude Okoye. These two guys contributed immensely to the rise of P'Square, whose glory Peter still lives on.
For much of the star singer's life and career, he has, at every point, enjoyed the companionship of his twin brother; right from childhood to the university to the music industry. And despite their breakup, Paul is doing equally fine in his chosen lane.
Paul, who is now known as Rudeboy, is happily married with kids, and while he's a bit inferior to Peter in term of wealth, he has managed to rack up more hits and award nominations since their infamous split.
Furthermore, Peter has his elder brother – Jude Okoye – to thank for his rise to fame and growth in the music industry. During P'Square's heyday, Jude was the backbone behind their numerous endorsement deals, hit albums/songs and shows promotion among others. He was able to propel the duo to the peak of the Nigerian entertainment scene, under his management company – Engees.
Unfortunately, however, Jude Okoye was alleged to have been the cause of the rift, which eventually led to the infamous separation of the iconic duo.
Other siblings of the music star include:
Henry Okoye
Ifeanyi Okoye
Lilian Okoye
Tony Okoye
Mary Okoye
Peter Okoye Songs
Mr. P, as Peter is fondly called today, has released quite a number of songs since breaking off from P'Square some three years ago. Over this period, he has released a number of songs and he has also featured in numerous collabos.
Unsurprisingly, most of his solo releases and collabos from 2016 to date have turned out to be hits, dominating the airwaves back-to-back. His most recent release, One More Night, which sparked a lot of craze and excitement on social media is one of the trending Nigerian songs today.
Below is a summary of Peter Okoye's songs, as a solo artiste:
One More Night
Look Into My Eyes
Ebeano
Wokie Wokie
My Way
Penalty Dance
Ana Tare
For My Head
Zombie
Punani Dance
Cool It Down
Basaji
 Peter Okoye Net Worth
Prior to the dissolution of "Square Records", P'Square (Peter and Paul as one) was arguably the richest in the game. However, since their split, Peter Okoye has somewhat gained the upper hand, having gotten himself a handful highly lucrative endorsement deals, both home and abroad. Also, he remains one of the highest paid artistes (for shows) in the country.
As of today, Peter has multimillion Naira deals with prominent multinational brands like Adidas, Olympic Milk, KIA Motors, Globacom and Empire Film distribution company among others. Furthermore, his "DanceWithPeter" show, which was financed by Globacom also boosted the singer's wealth profile.
Hence, with respected to the foregoing, Peter Okoye's net worth has been estimated in the range of $5 million to $10 million.
How Old Is Peter Okoye?
As stated earlier, the music star was born on 18th November, 1981. Hence, as of today, Peter Okoye is 37 years old; to be 38 in six months time (by November 18, 2019).
Peter Okoye Wife
One of the highlights of Peter's solo adventure in the music industry is his wife – Lola Omotayo-Okoye, who has been accused, by many, of being the chief orchestrator of the rift that led to the infamous split of P'Square. However, despite the ugly accusations and allegations flying around, Peter has always come to the defence of his wife.
The two lovebirds dated for seven years and their pre-marital affair produced two kids, before they finally got married in 2013. On their wedding day, November 17, 2013, a notable absence was Peter's elder brother – Jude – who, as gathered, was (and is still) strongly against the union.
Although, Peter has maintained his stance; taking his own family over his siblings, the impact of his wife – Lola – on the raging dispute remains a sore subject.
However, in the midst of the raging dispute between the brothers is a rather calm home front, as Peter's wife – Lola – and Paul's wife – Anita – are reportedly best of friends, and their kids have been spotted together at several functions.
Peter Okoye Children
Peter Okoye and Lola Omotayo-Okoye's union has, so far, been blessed with 2 beautiful kids; a son and a daughter. The elder child is Cameron, while the younger one is Aliona. And like a typical boy, Cameron fancies football and other forms of sports. Aliona, on the other hand, is the homely type, who likes to stay within the comforts of her parents.
https://www.instagram.com/p/BuiqyoSHxQT/
Peter Okoye Father
As pointed out earlier, Peter and his family grew up in the North-Ccentral city of Jos; however, he has his roots in Anambra, in a small town called Ifite Dunu, which is the home town of his late father.
Peter Okoye's father, Mazi Okoye Moses, died about four-and-half years ago. He passed on November 24, 2014, due to complications from a knee injury. This was barely 2 years after the untimely death of his wife (Peter's mother).
Peter Okoye Mother
The greatest tradegy to have befallen Peter and his brother is perhaps the loss of their mother, Josephine Okoye, who passed on some seven years ago, in 2012. She died few hours after a cardiac operation in India, which marked the end of her battle with an undisclosed heart disease.
Madam Josephine Okoye was the pillar of P'Square during her lifetime, and it was quite unfortunate that the group dissolved only few years after her death.
About two years ago. in an interview with Inspiration FM, Peter Okoye pointed out that the death of his mother contributed immensely to P'Square's split. He mentioned that; had it been that his mother was alive, she would have prevented their split or at worst, get him and his brother to make up.
Also, the ongoing rift between Peter and his brothers has been attributed to the alleged "dying words" of their mother, which forbade Peter from marrying the love of his life – Lola Omotayo.
This claim was, however, refuted by Peter as being baseless and dishonorable to the memory of his mum. True or false? We may never know.
Read Also Paul Okoye's Biography.