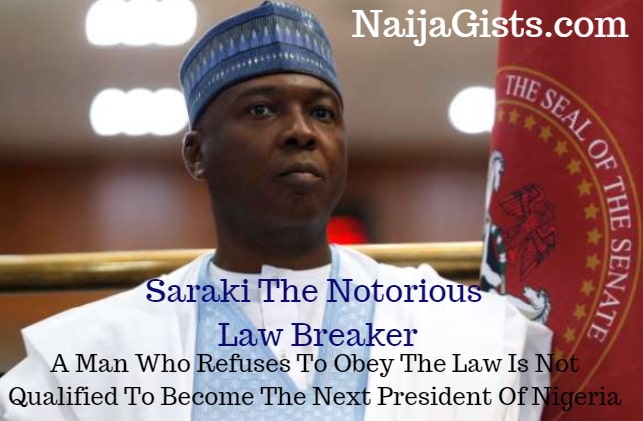 Senate President Saraki Dragged To Court By LEDAP Human Rights Group For Refusing To Vacate Seat After Defecting To The PDP Party
A rights group, the Legal Defence and Assistance Project (LEDAP), has sued Senate President Bukola Saraki and other lawmakers who defected to the Peoples Democratic Party (PDP).
LEDAP is praying the Federal High Court in Abuja to declare that they are no longer members of the National Assembly by virtue of their defections from the political parties that sponsored their election.
The group is urging the court to determine whether any lawmaker who defects from the party that sponsored him before the expiration of his term does not automatically lose his seat unless there is a division within the party.
In a supporting affidavit, the plaintiff said there was "no division in any of the political parties the said defendants defected from".
LEDAP further argued there was "no mergers involving any of the parties the defendants defected from".
There are 55 defendants in the suit, including Senators Dino Melaye, Rabiu Kwankwaso, Barnabas Gemade, as well as House of Representatives members.
The Independent National Electoral Commission (INEC) is also named as a defendant in the suit filed by LEDAP National Coordinator Mr Chino Obiagwu.
The plaintiff's reliefs are based on section 68 (1) (g) of the 1999 Constitution as amended.
The section provides: "A member of the Senate or of the House of Representatives shall vacate his seat in the House of which he is a member if, being a person whose election to the House was sponsored by a political party, he becomes a member of another political party before the expiration of the period for which that House was elected, provided that his membership of the latter political party is not as a result of a division in the political party of which he was previously a member or of a merger of two or more political parties or factions by one of which he was previously sponsored."
LEDAP, in the suit filed on September 14, is praying the court for an order of mandamus compelling the Deputy Senate President and the Speaker of the House of Representatives to declare the defectors' seats vacant.
According to the plaintiff, pursuant to Section 8(2)(d) of the Legislative Houses (Powers And Privileges) Act, it is a criminal offence for any of the defectors to continue sitting in the National Assembly.
LEDAP, a non-profit organisation, said the suit is in furtherance of its core mandate of promoting the rule of law, good governance and accountability in Nigeria.
No date has been fixed for hearing.