Columns
Says No To Hard Drugs Addictions, It Is Deadly!!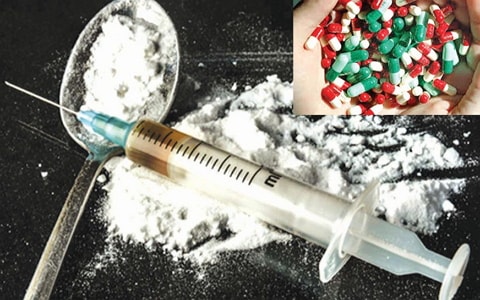 Addictions. Addicted. Addicts By Jolaade Adelakun
Kola who suffers low self-esteem has a urge to feel among. His hostel mates are taking codeine ,tramadol, skunk e.t.c .Whenever they are high, they start to misbehave and always on the receiving end is he. They  bullies. Harsh. Inhumane.
CONCRETE MOCKERY. He is depressed. HE IS THINKING . About solutions. Sadly ,all what he can think of is joining the crowd. Long story cut short, he is already a smoker. He is addicted. His addictions are terrible, life-destroying and deadly. He became an ADDICT. Leader of today, painful.
So much like tara, a beautiful lady who resulting into taking weed to be a first class student. She discovered she can easily assimilate within few hours to exam after taking weed. This is actually easier than reading months to exams. I will stop after school was what she always tell herself. Deceit. Pure deceit. Time flies, she had finished school and in service. She couldn't stop taking it. She tried but she couldn't. And worst still, nobody knew. No one can save her, for they don't know.
She is now an ADDICT. She is addicted to weed. Her addictions are critical.
Another sad story is Jide , a spoilt brat. His father called his smoking, drinking, bad habits childish. He did not see any of these habits terrible. He refused to listen to his wife complaints and screams about the boy`s behaviors. He will change as time goes on is his reply always each time his wife talks about it. Mere looking at Jide , his looks speaks about his behaviors.
His complexion has faded from time, his hair has turned dreadlocks looking like that of a mad man. His lips are blacker than charcoal. On a particular afternoon, he had went visiting a friend and his parents dropped him off as they are going to a party too. Minutes later, they had turned back on their way him, approaching the street, they could not believe their eyes as a young boy was scratching his body, who is this?. No, it can never be. What is wrong?. He didn't even reply ,he forcefully collected keys from his mother, opened the gate ,ran inside to his room, scattered the whole place, only to find his weed and start smoking. As his parents followed suit, shouting and asking questions, forcefully opened his room`s door to found him. Reality dawned on his parents. HE IS NOW AN ADDICT. He was later taken to rehabilitation center as tears flowed from his parent`s cheeks.
END RESULT; Am sad. Depriving self of clothes .Gibberish words. He ran MAD. Labour lost. Upon all his parents effort. His too. All gone now. He was brought home to his parents in awful reception. That was his bachelor degree.
Became sick. Rushed to health center . Transferred to hospital. Diagnosed . of lung cancer. What!.
Revealed. She is an addict. Of what? . Weed? NO, not my Tara. She is dying. Wasted effort.
SAY NO TO HARD DRUGS ADDICTIONS. IT IS DEADLY.THANK YOU!.