Nollywood
Nollywood Filmmaker Turned Robber Seun Egbegbe Still In Jail 31 Months After Arrest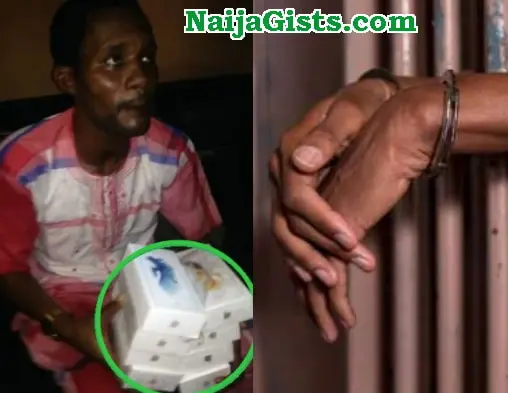 Nollywood Filmmaker Turned Robber Seun Egbegbe Lamenting In Prison 31 Months After Arrest Over Inability To Meet Bail Conditions
Yoruba filmmaker and socialite, Seun Egbegbe, has now spent 31 months in prison custody due to his failure to perfect his bail conditions. Seun has been incarcerated since February 10, 2017 after he was arraigned by the police for alleged defrauding Burea de change operators of N39 million; $90,000 and £12,550.
The spokesperson for the Lagos State Command of the Nigerian Correctional Service, Rotimi Oladokun, has confirmed that the filmmaker is still being held at the Ikoyi prisons.
"It is not our fault. The N5 million bail bond is yet to be paid neither have any sureties come forward," Oladokun said. The police alleged that Egbegbe fraudulently obtained the money over a period of two years – 2015 to 2017.
He was accused of falsely telling them (the BDC operators) that he had Naira to change into foreign currencies and vice versa. According to Egbegbe's lawyer, Adebayo Onifade, his client has remained in custody because his bail conditions are yet to be perfected.
"One of the boys who was arraigned alongside Seun has perfected his bail conditions and gone home and he isn't as influential as my client. Even before I took up Seun's case, he had already been granted bail and when I came on board I applied for a variation and it was granted.
I think it is just a question of finance or family members'. At the time he was sentenced, Justice Oluremi Oguntoyinbo of the Federal High Court ruled that the filmmaker be granted bail once he meets his bail requirements which include; "One of the sureties must be a civil servant who has attained level 16 while the other surety must be a landowner in any part of Lagos metropolis.
The landowner must submit a Certificate of Ownership of the landed property while the civil servant must submit his international passport to the court.
The sureties must swear to an affidavit while the house and office addresses and a telephone number will be verified by the court," the judge ruled then.
[Credit: New Telegraph]