Crime News
Spiritual Rat Kills Helpless Chicken In Bloody Fight In Awo Ekiti As Spectators Watch In Shock!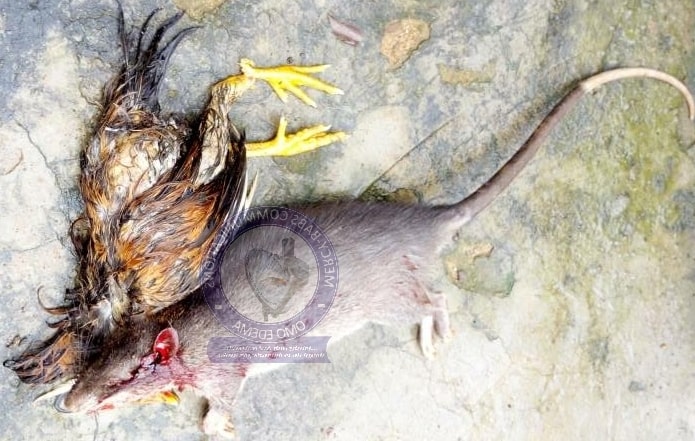 By Mercy Dabs Comm.
A giant rat and chicken fighting intensely recently caused a scene in Okoba area of Awo Ekiti in Ekiti state Nigeria.
The sad incident happened few days ago.
Eyewitnesses told Mercy Dabs communications that they chased the rat twice but still came back to the spot to resume the fight.
An elderly man from the neighborhood who witnessed the fight said,
"It was not an attack on the cock, it was two fighting, both of them were actively involved. We were surprised at seeing the two different types of animal fighting this morning. What drew our attention to them in the first place was that giant rats do not come out in the daytime. It was already around 7.15am. In fact, when it is seen in the daytime, it has spiritual interpretation—it mostly signifies evil.

"The youths wanted to kill it the first time, but it escaped. We were not even expecting it back. But it came back shortly and they made effort again to capture it, but still narrowly escaped the second time. People gathered in surprise to see the giant rat come back to resume fight with the same cock"
The cock eventually lost its life in the 25 minute-long fight.
The rat was not allowed to escape as spectators carried out jungle justice on it.