Crime News
Tears As Mother Of Woman Killed By Drunk Policeman In Calabar Keeps Asking Daughter To Wake Up
The killer cop
Tears As Mother Of Woman Shot Dead By Drunk Policeman In Calabar Keeps Asking Daughter To Wake Up
A young woman Victoria Ekpe, has allegedly been killed by a drunk policeman in Calabar.
It was learnt that 32-year-old Victoria was shot on Sunday in the neck at a close range in front of her house at 11 Joseph Mkpang Street, Ikot Ansa, in Calabar.
At the late Victoria's home yesterday, friends and relatives expressed shock as they consoled her mother who kept asking her daughter to wake up.
It was gathered that the suspected killer policeman, Sergeant Edu Nkanu, from Abi Local Government of Cross River State, allegedly got home drunk from a party at 8.30 p.m on Sunday with a locally-made pistol in his pocket.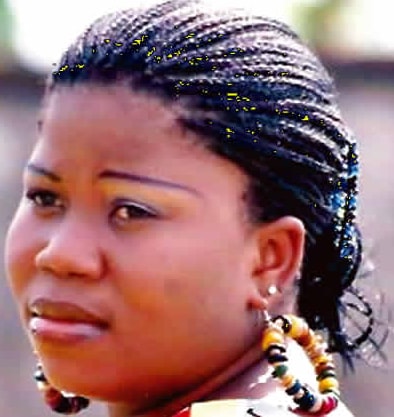 Victoria was said to be outside the compound after an outing with a cousin, Elizabeth.
According to Elizabeth, Nkanu came home drunk from a party and when she asked him why he always returned home drunk, the policeman brought out a pistol from his pocket and pointed it at her.
Elizabeth said she ran away.
Nkanu allegedly pointed his gun at Victoria, who she said did not say anything all the while, and shot her dead.
In tears, Elizabeth said:
"On Sunday, around past 5 p.m, my late cousin and I went out and came back by 8.30 pm. When we got back, she stood outside, pressing her phone while I went in to change my dress.

"When I came out, she was still standing there, fiddling her phone. She asked me what was going on inside the room and I told her nothing. She also asked me if I sprayed perfume and I said yes.

"At that particular time, the policeman came back from an outing. Our mother was also outside. Mma asked him what he brought from his outing and he told her he did not come home with anything.

"He left Mma and came to the passage where I was standing. I asked him why he always got drunk anytime he went out. He immediately turned and brought out a pistol from his pocket, cocked it and pointed it at me. He said it was what he brought from the party. I got scared and ran.

"He turned to my sister, who was just busy with her phone, not knowing what we were discussing, and shot her in the neck."
Victoria's elder sister, Ekanem, said her sister was killed in front of her six-year-old daughter.
She said:
"I don't understand why a police officer would rather take people's lives instead of saving them. We were told at the police station that he had killed someone like this before, where he was serving in Obubra. He has a criminal file in police custody before now.

"Please, we want justice for my sister."
Police spokeswoman Irene Ugbo, an Assistant Superintendent of Police (ASP), said the suspect had been dismissed and would be tried in court.
Ugbo said:
"The policeman has been arrested; he is in our custody. We are going to deal with him decisively because the gun he used to shot the deceased is not our gun; it is a locally-made pistol. So, he is going to tell us where he got that gun from and who ordered him to shoot an innocent woman.

"There was no quarrel between them, as we were told. Although we heard that he used to threaten people in the house. But that particular day, he released the bullet. We are going to try him for murder, dismiss him and send him to court."
She said the command was investigating the matter.