Crime News
Top 10 Nigerian Celebrities With Criminal Records: List Of Musicians, Actors, Entertainers With Arrest History
Nigerian Celebrities With Criminal Records: List Of Naija  Musicians, Actors, Entertainers With Arrest History
Small Doctor's Arrest: A Keen Look At Nigerian Celebrities With Criminal Records
The Nigerian media scape is currently saturated with the news of Small Doctor's arrest and subsequent detention by the Nigerian Police. It was gathered that, the popular musician was arrested alongside three of his "gang members" along Oshodi Express way in Lagos. According to the police, in a press release earlier today, the musician was arrested for threatening a police officer with an illegal firearm. He's currently in detention and will be charged to court in the coming days.
Small Doctor's travail at the hands of the Nigerian Police is not the first in the Nigerian entertainment space. There are quite a good number of Nigerian celebrities, who, at one time or another, have been arrested by the police or other law enforcement agencies. In fact, a good number of them end up spending time in jail. In this article, we are going to be looking at some top Nigerian celebrities, who have criminal records.
Small Doctor
 Small Doctor, expectedly, tops our list, as his recent arrest is probably the most trending issue in Nigeria. The artiste, whose full name is Temitope Adekunle, was arrested on Monday, December 3, 2018 in the company of three of his crew. He was alleged to have threatened officers on patrol with unregistered rifle (firearm), before he was disarmed and eventually arrested. However, as confirmed by the Lagos state CP, this was not Small Doctor's first encounter with the Police.
It could be recalled that, Small Doctor was, earlier this year, endorsed by the NPF as their brand ambassador. He has, however, chosen the antagonistic side of the law. As reported by the Police earlier today, Small Doctor was recently cautioned, when he fired live ammunition which injured four people at one of his recent shows in Lagos. The Lagos CP further emphasized that, the artiste will be charged to court, on multiple counts. If found guilty, he will be facing up to 15 years imprisonment.
Sinzu
The Nigerian rapper, whose full name is Falemi Babalola, is one the few Nigerian celebrities with, not just criminal record, but also a conviction history. Some time in 2014, the rapper's mugshot surfaced on the internet. He was alleged to have stolen $300 at a supermarket in the U.S. The rapper, however, denied the allegation and insisted he was not the one in the circulating mugshot.
In June, 2017, Sinzu was arrested by the police in Idaho, United States. He was charged to court on multiple counts of credit card and ATM fraud, as well as grand theft. He was subsequently sentenced to two years imprisonment by the presiding Judge.
The Nigerian rapper, however, regained his freedom much earlier than expected. Earlier this year, on March, 25, Davido broke the news of Sinzu's release on his Instagram page. The rapper himself later owned up to his crime. In his words; "I did the crime and served the time". Luckily for him, he was subsequently signed by Davido, to his DMW record label. Without doubt, Sinzu is on a mission to revive his music career.
Dammy Krane
Dammy Krane, the once promising Nigerian musician, is one of the few Nigerian celebrities, who have had run-ins with law enforcement. The singer, just like Sinzu, was arrested in the United States for credit card fraud and theft. He was arrested on June 2, 2017.
Dammy Krane, whose original name is Emmanuel Oyindamola Johnson, was reportedly prosecuted by Tapjets, a US airline affiliate company. According to the company's spokesperson, Dammy Krane, in his attempt to hire a luxury jet, used 5 stolen credit cards. The singer was, however, discharged and acquitted of all charges brought against him. Since then, he has been striving, fruitlessly, to revive his music career.
Ibinabo Fiberesima
Nollywood actress, Ibinabo Fiberesima, was sentenced to 5 years imprisonment by a Lagos High Court in 2009. She was charged for "reckless and dangerous driving", and "manslaughter", which resulted in a fatal crash, killing one Dr. Giwa Suraj, who was a medical practioner at the Lagos State University Teaching Hospital (LASUTH). The unfortunate incident happened some time in 2006, along the Lekki-Epe road in Lagos.
The star actress fought her conviction for years, before she was eventually granted bail in 2016, to the tune of 2 million Naira. The case still remains inconclusive till today. The actress, earlier this year, penned a heartfelt apology to her fans, where she gave a concise narration of what transpired on the fateful day.
Okwudili Umenyiora
Popular Nigerian record label owner, Okwudili Umenyiora, is one of the few Nigerian celebrities with a forgettable past. The wealthy businessman, who doubles as the CEO of Eric Manny Record Label, was notorious for his crime, during his time in the US. He is also currently involved in a brutal court case with his former ward, Runtown.
While in the U.S., Okwudili Umenyiora had a lot of encounters with law enforcement agents, and at different times, he was arrested and eventually released by the police. In 2006, he was arrested, prosecuted and subsequently convicted on a multiple count charge of bank fraud, in Alabama, United States. While in prison, he took a deal with the FBI. The deal reportedly involved ratting out his crime partners, and this eventually had him released from jail. Barely a year after gaining his freedom, Okwudili returned to Nigeria, his home land.
While the wealthy businessman has enjoyed more recognition in Nigeria, compared to his time in the US, he has been unable to keep a clean book with the law. A couple of months back, the record label owner was picked up by the police at a gym-house in Lagos. He was allegedly reported to the police by his former signee, Runtown, who claimed Okwudili put a gun to his face. The case, as gathered, is still in court.
Baba Suwe
Legendary Yoruba comic act, Baba Suwe, had a forgettable encounter at the hands of the Nigerian Drug Law Enforcement Agency (NDLEA) in 2011. He was arrested at MMIA when he was just about to board an international flight. He was arrested on the suspicion of cocaine possession and subsequently detained by NDLEA.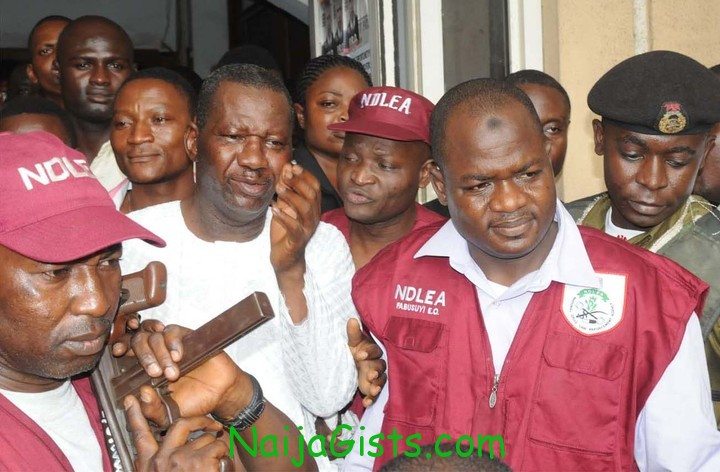 After weeks in detention, he was eventually released due to lack of tenable evidence. Upon his release, the popular comic act, as expected, charged NDLEA to court and demanded damages. He won the case and the court ordered the agency to pay him certain millions of Naira (undisclosed) as damages. Till today, NDLEA is yet to obey the court order.
Other Notable Mentions
 Davido
The popular musician was brought in for questioning shortly after the death of his friend, Tagbo. He, however, spent less than an hour in detention, before he was released and subsequently cleared of any wrongdoing.
Wizkid
Wizkid was arrested in Kenya some time in 2014 for the possession of illegal drug (marijuana). He was released the same day.
Uche Odoputa
Nollywood actor, Uche Odoputa, was arrested in 2007 at the Muritala Muhammed International Airport for possession of cocaine. He was subsequently charged to court and sentenced to 8 months imprisonment.
Skales
The rapper was arrested by the police for allegedly mismanaging Baseline Records funds. He was released shortly after his arrest.
Lola Margaret
The Nollywood actress was arrested for wire fraud in the United States last year. She has since returned home to redeem her battered image.