Breaking News
Tragedy: Man Hangs Himself at Leventist Bus Stop in Marina Lagos on Christmas Day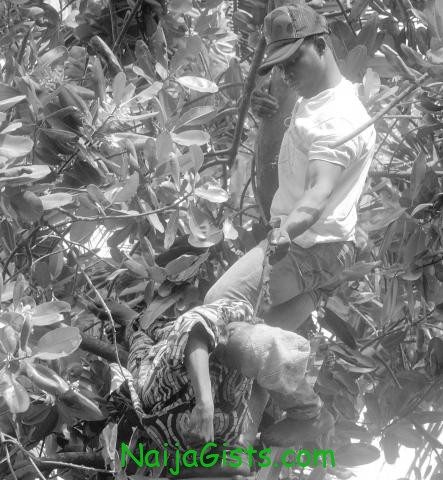 Volunteer releasing the man from the tree.
Dec 27, 2011 – TRAGEDY: Man Hangs Himself at Leventist Bus Stop in Marina Lagos on Christmas Day
According to community mirror, one of the top Christmas day tragedies of last Sunday was yet another at the Leventist Bus Stop in  Marina, Lagos, where a man whose identity could not be ascertained, was found hanging from a tree in an apparent suicide.
No one could say who he was and even a search on the body revealed no clues on the circumstances surrounding the unfortunate incident even as it could be discerned he was a middle-aged man. naijagists.com
It was understood the corpse was discovered on Sunday evening by two lovers who apparently went under the tree in search of a lonely place to relax.
According to a resident in the area, Mr. Richard Almso, upon discovering the corpse, the lovers ran out to alert neighbours. "I met them as they were running away from the scene. They were too afraid to talk when questioned, but later took us to the scene. They explained that they were under the tree, when suddenly drops of urine fell on them from the tree; they looked up and found a man hanging lifeless on the tree. The place is a little shady; nobody could have seen him from afar while he was hanging himself. We just stood there speechless and didn't know what to do. Later, we informed the police at Ebute-Ero Division," he said.
Another resident, Mr. Taiwo Raheem, said the incident was very sad, saying the harsh economic condition in which people are living may have been responsible for the act.
He said: "It happened on Christmas day. What do you make of that? Everybody is happy celebrating, but many cannot afford to eat. When I was hungry in the morning, I bought sachets of beverage drinks and milk even as many cannot afford them. The deceased must have been frustrated by uncontrollable circumstances that caused him great sorrow."
When contacted, the Police Public Relations Officer, Lagos State Command, DSP Jinadu Samuel, confirmed the incident. He said the police are yet to complete their investigations on the circumstances surrounding the death, even as he said no arrest has been made so far. Meanwhile, the corpse has been deposited at a nearby public mortuary.