Hot Gists
UNILAG Students Protest School's Renaming
May 29, 2012 – UNILAG Students Protest School's Renaming
The Students of the University of Lagos have taken to the streets to protest the renaming of the school by President Goodluck Jonathan.
President Jonathan announced this morning that the institution would be renamed as Moshood Abiola University in honour of the acclaimed winner of the June 12, 1993 presidential election, the late Chief MKO Abiola.
However, the students have expressed their displeasure at the announcement and have troppoed out of their hostels, chanting protest songs and denouncing the change of the institution's name.
The protesting students began gathering in groups on the campus immediately after the President's announcement. They marched out of their hostels and gathered at the Yabatech junction from where they moved round the school chanting protests songs denouncing the name change of the school.
They were seen carrying placcards with inscriptions: Reverse or Resign, UNILAG cant be called MAU! etc. They also blocked access to the institution and disrupted traffic on University of Lagos Road and St. Finbarrs' College Road.
Officials of the institution came out to beg the students to go back to campus saying, "We are with you." But the students shouted "NO".
With this widespread resistance from the students of the institution, it is evident that changing the name officially would be a tough battle for the Presidency.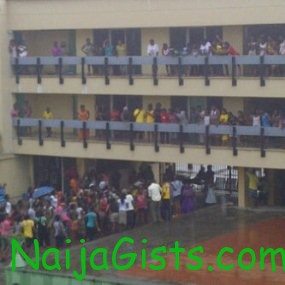 News Credit: Vanguard | Channels TV