Crime News
Update: Soldiers Break Into Port Harcourt Police Station, Free Suspects As They Beat Up Policemen & Civilians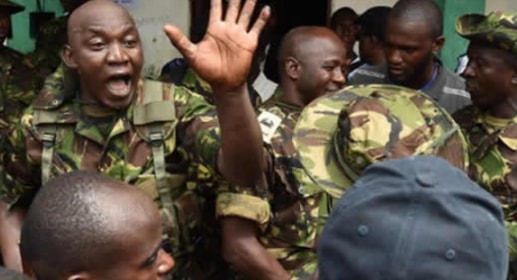 Update: Soldiers Break Into Port Harcourt Police Station, Free Suspects As They Beat Up Policemen & Civilians
A mild drama happened yesterday at Ada George Police Station in Port Harcourt Rivers state, when soldiers, attached to 6 Division, broke into the station to some free suspected criminals.
The incident reportedly followed the killing of a soldier by a police officer at a checkpoint.
A police source said that soldiers invaded the station and beat up policemen and civilians.
He said: "The soldiers first came and took the body of their colleague away. They returned later, opened the cells, freed suspects and beat up our men and civilians."
The source said the soldier was mistakenly killed because policemen at the checkpoint thought he was a criminal, as he was in mufti, armed and violent.