Crime News
Victims Of Fulani Herdsmen Killings In Kogi State Recount Ordeal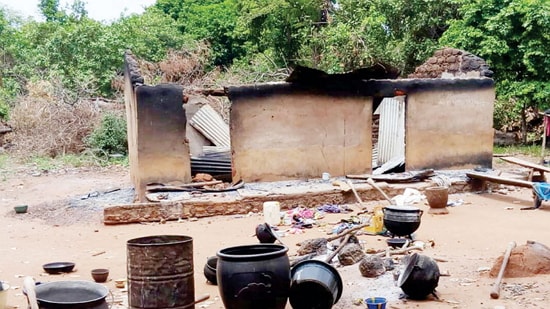 Residents of Omala and Dekina LGA of Kogi state are still counting their loses 10 days after Fulani gunmen suspected to be herdsmen invaded their communities.
While no fewer than 32 people were believed to have been killed in the early morning attacks, a 40-year-old youth leader in Oganeinegu, Alaji Akowe, says the community's losses in the attacks were not limited to human lives, as more than 45 motorcycles belonging to residents of the community were also carted away by their invaders.
Besides, he said, the suspected Fulani invaders scooped from the motorbikes the petrol they used in burning down many of the houses in the otherwise serene community.
As a youth leader in Oganeinegu community, Akowe ought to exude strength, but that was not the case when our correspondent met him during the week. On this day, his stout and sturdy physique was simply overshadowed by his sad and pensive mien. A sword had been driven into his heart with the death of his father, relations and some other residents of Oganeinegu.
Narrating his experience, Akowe, whose father, a farmer, was one of the people mowed down by the attackers, said: "They came in the morning and started shooting. There were about 500 of them, all speaking Fufulde. Our villages were razed. We discovered 12 corpses, while many of our people are not yet accounted for.
"They killed my father too. In fact, all our people who had moved closer to the river for the sake of farming, were killed, and these included old women and children. They ransacked our houses, spilled fuel from the more than 45 motorcycles they stole from us and burnt down our houses with it.
"In fact, they destroyed anything in sight."
Virtually every week, reports of bloody attacks by bandits and suspected Fulani herdsmen were rife in different parts of the country, but it was not common place in Kogi State. Hence the early morning invasions on Wednesday last week came as a rude shock and left the people in disarray. Journeying through the untarred road that traverses Etutekpe, Adumu Iyale, Olivia and other remote communities in the affected area, one is confronted with the sight of forlorn looking residents raising their hands in supplication to the skies. As one penetrates further, one realises that there are fewer women or children to be sighted until one finally arrives at Oganeinegu only to see clusters of people, mostly youths, wielding Dane guns.
Such was the scenario after the Wednesday morning attack that left scores dead, houses burnt and properties, including more than 45 motorcycles carted away by the invaders.
Corroborating Akowe, another youth leader, 25-year-old Yakubu Aliyu, said: "We have evacuated the children and women, remaining those that are hunters. The casualties were mostly old women and children, while some of the able-bodied men who were on hand to repel the attack ran into the ambush the invaders had laid in in the bushes.
"They said they were looking for their missing cows. They discharged petrol from motorcycles to burn our homes. About 45 motorcycles were stolen while many houses were burnt in the farm settlement close to Bassa (Local Government)."
Another resident, Ismaila Maji, said the attack took their people by surprise.
He said: "It was around 8 am on Wednesday. As soon as they came, they started shooting sporadically and killed many of our people".