Crime News
Video & Photos: Snake Bites American Pastor Cody Coots While Preaching With It In Kentucky
Son Of Snake Preaching Pastor Jamie Coots Bitten By Deadly Rattle Snake During Service In Middlesboro Kentucky
The son of an American Snake preacher Pastor Jamie Coots who died after a deadly snake attacked him during one of his sermons in 2014 has suffered almost the same fate as his father.
Pastor Cody Coots, who took over The Full Gospel Tabernacle Of Jesus Name church after the death of his father in Middlesboro Kentucky was  rushed to the hospital after being bitten by the rattlesnake while preaching with it.
The moment the serpent bit the preacher's ear, blood splatter down his cheek but he told his members to not worry as God is a healer.
Moments later he started to choke before his church members carried him out of the church and rushed him to the hospital.
Doctors told him he was lucky as the snake came close to severing the temporary artery.
Cody Coots who lost his father to snake bite in 2014 is now reevaluating his life in the wake of this latest incident that almost took his life.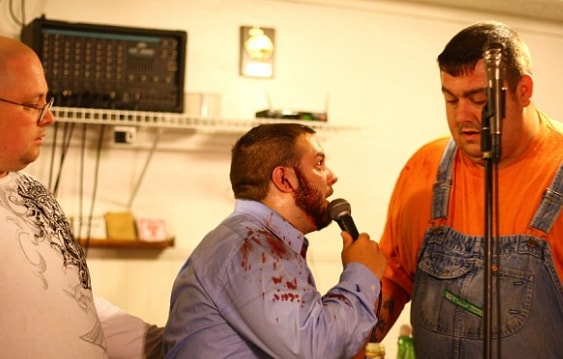 Watch the shocking video below