Naija Gossip
Virgin (Mother) Mary' Vision Spotted On Window At Malaysian Hospital Attracts Hundreds Of Catholics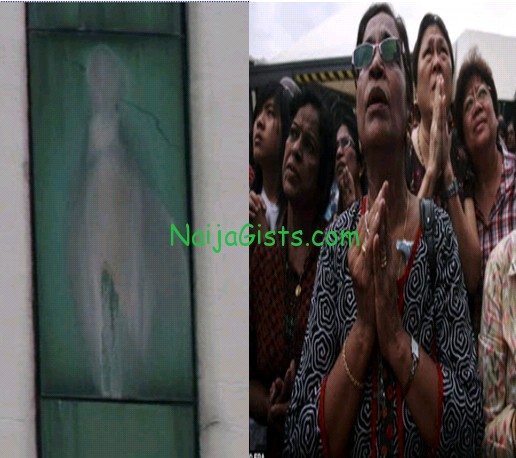 Nov 12, 2012 – Virgin Mary' Vision Spotted On Window At Malaysian Hospital Attracts Hundreds Of Catholics
Virgin (Mother) Mary vision pictures which was spotted on the window of a Malaysian hospital on Sunday Nov 11, 2012 has attracted a crowd of faithful Catholics. naijagists.com
The clear vision of the Virgin Mary clearly visible on Sime Darby Medical Centre's 7th floor window in Kuala, Lumpur Malaysia after which a night vigil was held appeared as a miracle.
The eyewitnesses of this miraculous sight believed the photo on the window was that of Virgin Mary, the mother of Jesus Christ.
Others also claimed they beheld the picture of Jesus Christ two windows away from that of Virgin Mary.
While other think it's a hoax, hundreds believed it's real.
According to a Malaysian newsletter editor, Father Lawrence Andrew, proper investigation needs to be carried out to ascertain the authenticity of the images.
See more pictures below
Virgin Mary's Vision Pictures In Kuala Lumpur, Malaysian Catholic Church