Feb 19, 2012 – Whitney Houston's Funeral Photos & Video
On Saturday the 18th of February, 2012 Whitney Elizabeth Houston's home coming funeral service took place at New Hope Baptist Church, Newark, New Jersey. Watch Whitney Houston's Funeral Video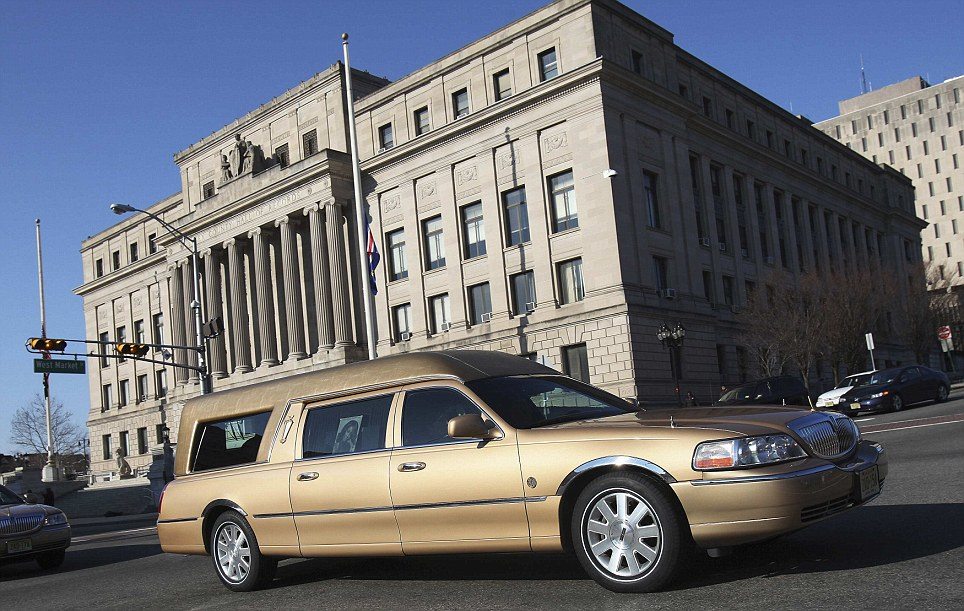 In a farewell message published in the programme, Whitney's mother Cissy Houston wrote:
"I never told you that when you were born, the Holy Spirit told me that you would not be with me long, and I thank God for the beautiful flower he allowed me to raise and cherish for 48 years."
Rest, my baby girl in peace.
Mommie.
Tyler Perry
Eulogizing the Whitney, movie producer Tyler Perry said:
"It was Pat that introduced me to Whitney. I met her a few years ago.  She told me about things that she went through. I saw this sadness and heaviness.
Stevie Wonder
But before she would say what was bothering her she would interrupt and say "But the Lord… But my Lord and Saviour Jesus Christ". I'm thankful for all that God has done in her life.
R. Kelly
There was a grace that followed her through her life. There was a grace that kept on carrying her. She loved the Lord.
God bless you family. We love you Whitney."
Whitney's boyfriend Ray. J touching her casket
As the service came to a close and Whitney's casket was being carried out of the church, her boyfriend Ray. J reached his hand out and touched the casket as it passed him down the aisle of the church, before collapsing into his seat overcome with emotions.
The service was not devoid of drama as the late singer's ex-husband, Bobby Brown, was said to have stormed out of the service after what he termed "being disrespected" by the security men handling the sitting arrangement.
"My children and I were invited to the funeral of my ex-wife Whitney Houston.  We were seated by security and then subsequently asked to move on three separate occasions.
I fail to understand why security treated my family this way and continue to ask us and no one else to move. Security then prevented me from attempting to see my daughter Bobbi-Kristina. In light of the events, I gave a kiss to the casket of my ex-wife and departed as I refused to create a scene.
My children are completely distraught over the events. This was a day to honor Whitney. I doubt Whitney would have wanted this to occur. I will continue to pay my respects to my ex-wife the best way I know how," his publicist said on his behalf.
However, the organizers of the event said Bobby actually failed the follow the laid down rule as he was invited to the event with two additional guests only for him to show up with 9 people without prior notice.
Rev. Al Sharpton and Bishop T.D. Jakes intervened by calming him down, and advised him to let the day be a mark of respect for Whitney.
Whitney Houston will be laid to rest by her father's grave on Sunday during a private ceremony at the Westfield Cemetery.
May her soul rest in perfect peace !