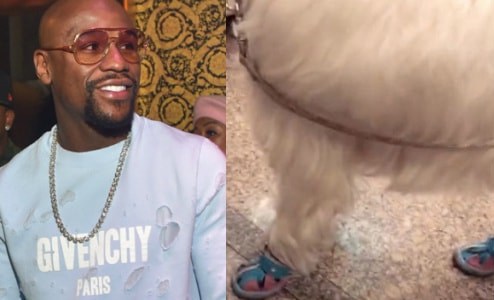 Retired boxer Floyd Mayweather just revealed his pooch new footwear.
The fighter took to his Instagram while in the Philippines to show off his dog's fresh footwear. Talking to the camera, Mayweather says, "See, I've got on Nikes — my dog's got more expensive shoes than I've got."
The 41-year-old boxer then shows off his adorable white-haired pup, saying, "See my dog — them red bottoms." In the clip, the dog appears to be wearing pink and teal booties.
Mayweather, known for his penchant for luxury labels, implied that his dog had on shoes by Christian Louboutin — which are often referred to as "red bottoms" because of their red-lacquered soles.