Celebrity Gossip
World's Tallest Woman, Yao Defen Is Dead: Died In China @ Age 39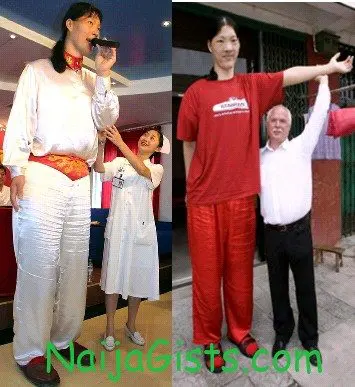 Dec 7, 2012 – World's Tallest Woman,Yao Defen Is Dead: Died In China @ Age 39

The tallest woman in the world, Yao Defen who lives in Zhucheng in China has died. naijagists.com
Yao Defen of height 7ft 8in gave up the ghost on the 13th of November, 2012 in her hometown at the age of 39.
At age 15, Yao developed gigantism as a result of a tumour growing in her pituitary gland. At 15 years of age, she stood at least 2 metres tall.
She fainted on a basketball court while playing for her school and had to be rushed to the hospital where she underwent a medical exam that led to the discovery of the tumour.
The tumour which caused the release of excessive growth hormones in her bones was successfully removed in 2006 and she stopped growing.
In 2007, the tumour returned but her poor family could not afford the expensive surgery.
According to a neighbour, on the day of her death, her mother rushed out of the house to call for help.
The neighbour identified as Zhang said at 9am in the morning, Yao's widowed mother shouted for help.
"People immediately rushed over to their home. I saw Yao lying on the bed – she wasn't breathing…Later, her sister arrived and the doctor soon confirmed her death. Her sad mother cried then fainted."
May her soul rest in peace!