Nollywood
Yemi Solade: I Have 3 Masters Degree & Worked As Lecturer For 4 Years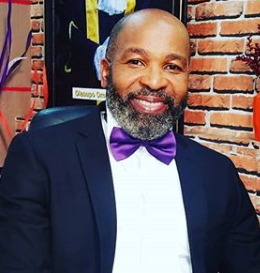 Yemi Solade: I Have 3 Masters Degree & Worked As Lecturer For 4 Years
I Met My Wife Hannah Marsh On Superstory
Top Nollywood actor Yemi Solade, in this interview with TONY OKUYEME, explains why he abandoned a promising job in the ivory tower to seek a career in the precarious world of acting. He also talks about marriage, movie industry and why Afrobeat legend, Fela Anikulapo-Kuti, remains his favourite musician

You were a disco dancer before going to study Dramatic Arts at the Obafemi Awolowo University Ile-Ife. Why did you abandon dancing?

I didn't abandon dance. I only stopped competition dance which I did to the highest level in world. I felt I had done all I needed to do in the realm.

our first experience as an actor was in Crazy Yangi, a 45 minutes monologue on stage in Ife where you played the role of passenger, driver, conductor, in an imaginary bus. What was your experience?

Interestingly, 'Crazy Yangi', a monologue which is part of a play text "The Gulf ", written by Dr. Femi Euba, was my first solo performance as an actor on stage. I challenged myself that I wanted to do something that would stand me out, and the monologue readily came to mind and that was it. I 'blew' instantly with it.

You have three masters degree: one in Public Administration (ABU, Zaria), another masters in Sociology Anthropology (Leicester University, UK) and another in International Relations (OAU, Ife). Why have you not considered going to lecture fulltime in the university?

I actually lectured for about four years in the tertiary institutions (Ramat Polytechnic, Maiduguri; Ahmadu Bello University, Zaria and Kaduna Polytechnic, Kaduna. I quit the ivory tower because I wasn't fulfilled. I saw the system as being rigid and inelastic.

In an interview recently, you said for the first time in a long while, you gave up on Nigeria, and that you might decide to relocate to another country. Has the situation changed?

The highlights of the phone interview I had with Sola Rickett of Punch Newspaper were essentially about the Theatre Arts/Film Industry in Nigeria…..that he chose to use a caption that made the chat JUICY was absurd because the statement about "Nigeria Killing Me" was made in a lighter mood. Trust Nigerians to feast on negativity. I read all sorts of interpretations, nuances, injections and inflections to the statement made in humour.
That is *SENSATIONALISM* in journalism. I think Nigeria should get better for every citizen.
Which part of the country are you from? I am from Abeokuta in Ogun State and Oron in Akwa Ibom State.
It appears acting has not paid you as expected. Why have you not gone into producing or professional dancing?
The world of 'made–believe' has done and is still doing a lot for me. It's given me so much joy, honour and satisfaction. The remuneration hasn't been too encouraging though but one keeps trudging on for the passion.
How did you meet your wife?.
I met my wife – Hannah Marsh – on the job. We met on location of Superstory, a television drama from the stable of Wale Adenuga Production.
What is your opinion about marriage?
Marriage should be a life time covenant and contracted, executed in absolutely selflessness, mutual respect and love.
How do you unwind?
I am a music buff, it's principally music. I read a lot…, hang out once in a while with friends over barbecue and drinks.
Who is your favourite Nigerian musician?
Fela Anikulapo–Kuti Why? Because of his style, messages, rhythms, ideology and personality.
Would act nude if the pay is right?
I won't act nude.
How do you see the Yoruba movie industry?
There is nothing like Yoruba Movie Industry. Nollywood is what we have. Is there Red Indians Movie Industry in America?
How do you see the Nollywood?
It is evolving. A lot is happening on the developmental front. There is still a lot to improve on. I'm super excited about the new cinema culture. Movie lovers go to the cinema to watch Nollywood movies and that in itself is huge and encouraging. It can only get better. The quality of movie being churned out are of very high grade, comparable to what obtains in Hollywood and Bollywood.
Any regret being an actor? Why?
I have no regrets being an actor. It wasn't accidental. I chose and trained to be one.
Have you been embarrassed?
Yes.
What happened?
I have been embarrassed by bad press. The negative stories which are highly untrue are still living on my page on Google. Too bad … for the concocters of the lies.
[Interview Credit: New Telegraph]