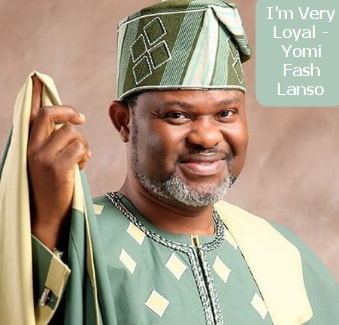 In this brief chat with Tony Okuyeme, Nollywood actor Yomi Fash Lanso talks about his career and his journey into acting.
See excerpts:
Tell us how it all started for you as an actor…
I grew up watching television and films. With my uncles and my brothers, we used to go to the cinemas to watch films, mostly Chinese and Indian film. But we also watched Nigerian films, especially Yoruba films by notable filmmakers such as Ola Blogun, the late Huber Ogunde, Ade Love, Moses Olaiya Adejumo (Baba Sala), Akin Ogungbe, and the younger ones among them, such as Segun Rasco, Slade Aromire. They really engaged us then.
We learnt a lot from them. I used to think about it, what was required to be an actor. Apart from watching television, movies, and going to the cinemas, I was also reading books that had to do with filmmaking, acting, telling stories. So, after that, the rest is history now. I attended Independent Television Association of Nigeria (ITPAN) Training School, Lagos, which for me was one of the best training schools in Nigeria.
Inspite of your early exposure to acting and films, you studied Business Administration. Why?
Because I want equally learn how business is done, and how to manage myself because as a person, you in business, even as an actor. So, you need to know how to be able to manage yourself very well. So, by intuition, I decided to study Business Administration. But at the same time I was reading books and magazines on acting, and so on. After graduation, I met a guy, a fantastic stage director, who was working with Prof. Bode Osanyin, and we used to go to Osanyin's Writers' Resort, Ijoko, Ota, Ogun State. He really tutored me on stage performance. So with that I was prepared to venture into the movie world in 1995. I used to act when I was in primary school, where I was a member of the school's drama and cultural group. Also, as a child, I used to play drums, including Dundun drum and quite a lot of instruments. I started acting professionally in 1995.
You were working in a bank, NIDB, at a time. Why did you leave?
I got tired of doing the same thing again and again; doing the same routine; wake up in the morning, 6.am you are in the office, then you sign files, carry files, attend to vouchers, and 4pm, you are done, and you go back home.
But the pay was good…
Yes, but for me, it was not it. I love taking control of my life, doing what I want to do and how I want to do it.
So, looking back now any regrets?
No regrets. Whatever you do in life, whatever situation you find yourself, whatever environment you find yourself, it is a lesson. I have learnt from working in a bank. I met good people, understand how people behave. It is another level of understanding people, and the working environment. So, there is no regret at all.
You were one of the Housemates in the Celebrity Housemates, which was won by Eniola Badmus. How was it being in the House?
It was a lovely one. It was another experience of life, because you are in one place with people with different characters. And you are together under one roof. It gives you room to understand how some people think, and appreciate them because we are all one before God. But that does not mean that we reason the same way. That does not mean that I should not respect the way you reason and your feelings. So, it gave me more room to see how I can relate with people of different characters, different behaviours. So, I really love it.
How did you feel when you did not win the top prize?
I was happy for the winner. All of us in the House were friends. The way I felt is that whoever wins, the money was also coming back to the industry. So, it is a good thing for me. I am not bitter about it at all. I am so happy for the winner.
Which of the movies you featured in do you find more challenging?
All the movies I featured in, I found them interesting. I don't any role challenging, because that is why I am an actor. I should be prepared for all these things. So, why should I find it challenging? Every role I played was serious, energy-sapping and time-consuming.
How would you describe yourself?
I am just who I am. As Gemini, which is my Zodiac sign, we are very loyal, understanding, and lovely. We are very romantic.
How do you combine your roles as actor and husband/father?
To me, it is easy. That is why we need to understand the profession. You'll understand what it demands and how obey it. Yomi Fash-Lanso is a family man at home, husband to his wife, father to his children. The character he plays on screen is a sumup character which he tries to play convincingly. That is not him. So if he now feels that the character he plays in a film he should be exhibiting it, he has got what we call misplaced priority.
What inspired the Afro-Heritage Broadcasting and Entertainment Award (AHBEA)?
Afro-Heritage Broadcasting and Entertainment Award (AHBEA) is an annual event established in 2015 to celebrate and honour eminent Africans who have contributed to the development of the race through their crafts and talents, especially in the entertainment and the broadcasting industries. It is created to appreciate outstanding performance in broadcasting and entertainment industry. But it is not by nominations; it is not by votes. It is by selection.