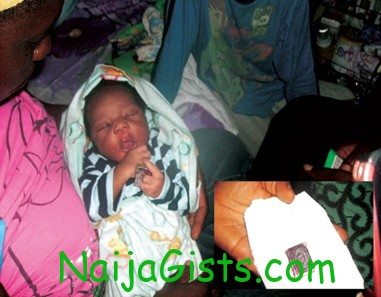 Baby born with Quran
May 9, 2012 – Baby Boy Born With Quran In Lagos, Nigeria
Controversy is presently raging through Mushin area of Lagos State Nigeria following the birth of a baby boy born holding a mini Holy Quran. naijagists.com
This baby boy was delivered at a white garment church in Mushin, Lagos State.
While some dispute the claim, others say it is possible. A large crowd gathered at 1, Sonde Street, Ijeshatedo, Lagos home of the boy's parents yesterday, as news of the birth spread rapidly.
Mother's Comment On Baby Boy Born With Quran In Lagos State, Nigeria
The baby mother, Mrs. Kikelomo Ilori, 32, a Cosmetologist by profession told reporters she delivered him on Monday after she had carried the pregnancy for about 10 months.
The single mother claimed she was abandoned by her husband who denied responsibility for the pregnancy and encouraged her to abort it.
"When I refused to abort the pregnancy, he deserted me, saying 'that is your own problem'." Mrs. Ilori expressed surprise at the birth of the boy. She added that the nurse who delivered her of the baby was physically challenged, but went about it commendably.
"When my baby was delivered holding a Quran in his hand, the nurse said the Quran should be thrown away. But I insisted my mother must see it before any action could be taken," Kikelomo, who is a Christian, further explained.
Corroborating the story, Senior Rev. Victoria Yetunde Dada said during the pregnancy, Kikelomo was always coming to her for prayers and counselling.
"I advised her not to abort the pregnancy because she might die in the process. Again, I told her the foetus was sent by God and will be great," Apostle Mother Dada told our correspondent. Controversy has continued to trail the seemingly spurious claim.
Doctor's Reaction To Baby Born With Quran In Lagos
Reacting, Medical Director of Bodet Hospital, Ikeja, Lagos, Dr. Bode Tawak said scientifically, it was not possible for a baby to be born holding a Quran.
"How big is the baby's hand to hold the Quran? How big is the Quran? How did the Quran get into her mother's womb? I don't know how a Quran can get into a womb. But there are things you can't explain," Dr. Tawak responded. He said while the incident cannot be explained medically, in Nigeria many mysterious things happen. A Kaduna-based medical practitioner, Dr. Munir Yusuf said from a medical point of view, it was not possible, but added that depending on the size of the Quran, it was possible metaphysically.
He explained that if the Quran is small enough to pass through the diameter of the vagina, with the child, it is possible. In the same vein, a herbal medicine practitioner, Chief Dr. Bola Adegunloye believes nothing is impossible, but said too much importance must not be placed on the incident.
How possible is this?