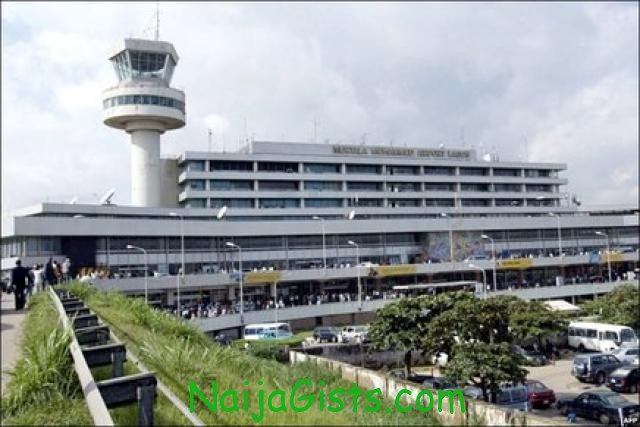 May 9, 2012 – Bomb Scare Stalls Lagos International Airport
Airlines have resumed their normal operation following a bomb scare that hit Murtala Muhammed International Airport, Lagos on the night of Tuesday May 8, 2012. naijagists.com
The bomb scare that took place last night threw Nigeria's busiest aerodrome into pandemonium. The airport was thrown into chaos and panic at about 7.30 p.m. yesterday as anti-bomb experts struggled to determine the content of an unclaimed bag suspected to be cntaining a bomb.
It was observed that the two roads leading to the six-storey terminal building did not have police presence and were devoid of anti-bomb detector devices.
At the main entrance to the airport, it was observed, passengers and other airport users were not frisked and luggage were not opened or searched.
An airport worker said sarcastically that only God protects airport users and not security operatives.
"When I came in, who searched me to know if I was carrying a bomb or a Boko Haram member?" he asked, echoing what others said.
Yesterday's bomb scare started at about 7:30 p.m. and lasted for about an hour, sources said.
The police cordoned off the area to examine the bag that later turned out a hoax.
The confusion, a news report said today, deepened after the bag emitted a loud sound while the anti-bomb policemen were trying to open it.
On hearing the bang, those present at the airport at the time reportedly took to their heels.
However, after it was opened by men of the anti-bomb squad the bag was discovered to contain the personal effects of a British Airways passenger.
Boko Haram has threatened to bomb Lagos, Nigeria's largest state and tension seems to be heightening by the day.