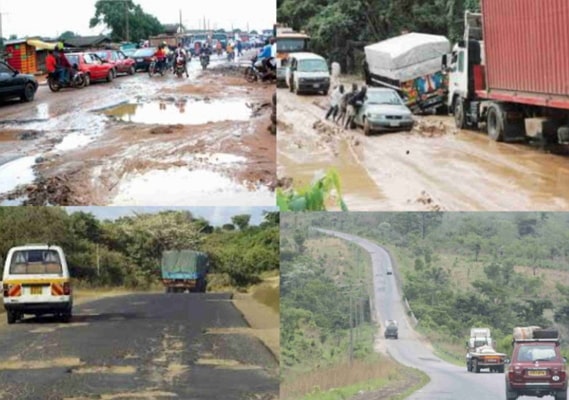 The importance of roads in the socio-economic life of a people cannot be overemphasised. That is a fact. Another incontrovertible fact is that countless number of roads in the country are in a terrible state of disrepair. From one end of the country to another, it is the same story.

A few examples will suffice to illustrate this malady. The Lagos/Ibadan Expressway which is a vital link to other parts of the country has for long period been in a poor condition. Both sides of the Berger end of that highway is in a state of dilapidation leading to heavy traffic jam on a daily basis.

The Lagos/Badagry Expressway is even in a state of collapse. Many portions of the expressway have failed terribly. From Alakija to Agbara is a disaster. The Iba section where there is a big crater is a nightmare to motorists and commuters.

Benin/Okene/Okpella, Enugu/Onitsha, Umuahia/Ikot Ekpene, Jos/Abuja, Jebba/Mokwa, Owo/Ikare/Okeagbe Road, Akure/Ado, Benin/Akure/Abuja etc. are all in various stages of decay. The list is by no means exhaustive.

If the condition of these highways which are federal is this terrible, it is better imagined what inner roads within the various states look like.
This terrible state of roads has, no doubt, been exacerbated by the rains. The heavy downpour in many states in the last weeks has exposed the deplorable condition of the roads, and underlines the need to do something urgently to fix them.
We, therefore, implore government to quickly repair these roads. The government does not need to wait until the rains are over to begin repair work on them so as to ameliorate the sufferings of the masses. It goes without saying that the poor state of the roads causes serious traffic jam that, in some cases, can extend for kilometres and lead to loss of man hours.
Again, the increasing loss of lives to auto accidents is also partly attributable to the poor state of roads. This is another compelling reason to quickly fix them. So, we call on the Minister of Power Works and Housing, Babatunde Fashola, to swing into action. The Federal Roads Maintenance Agency (FERMA) should be made to do its work. Areas where repair work needs to be carried out, even as a stopgap measure, should be quickly fixed. Proper rehabilitation or reconstruction as the case may be can then be done when the rains are over.
Undoubtedly, one reason many of the roads are so terrible is the fact that the materials used in their construction are of low quality hence they fail easily.
In this regard, we want to call on governments to always monitor road construction projects rigorously to ensure the highest standards are adhered to. What are the monitoring units in the federal ministry and state ministries doing? Is it not their duty to ensure that the quality of work done by contractors is of high standard?
There are several roads within the Lagos metropolis, for instance, that are still very solid years after their construction. The Igando/Ikotun Road is one example. The government can do well to ascertain why this particular road is still solid and has not succumbed to the pervasive problem of bad roads and replicate it everywhere.
We also note that there is practically no effort devoted to maintenance of roads after their construction. Again, there is little or no provision of drainages. These are some of the reasons for their failing in just a few years after construction.
The truth is that no road lasts forever, so effort must be made to not only periodically maintain them but to also engage in major repairs when the need arises.
We also note that many of the contracts for road construction and rehabilitation in the states are sometimes awarded based on political patronage. The effect is that such roads end up not been constructed and even when they are, are poorly done. There have been instances in the past where contractors neglected or refused to do the job for which they had received mobilisation funds.
We insist that the provision of these critical infrastructure cannot be subjected to party politics and patronage.
Again, we want to stress that government is a continuum. If a particular government embarks on a road project and cannot see it to completion within its tenure, it is the duty of the next government to finish the project. That is how development is engendered. Projects should not be discontinued or discarded simply because a governor does not want his predecessor who started the project to take credit for it. There is no reason, for instance, why the current government in Lagos State should not have continued the Lagos/Badagry Expressway and rail project which is an important route to the West Coast of Africa.
While not attempting to denigrate the importance of other projects, the centrality of roads to growth and development cannot be overemphasised. So why put so much emphasis on building bridges, for instance, when roads are in a terrible state? This speaks to the issue of priority.
Governments at all levels should be able to prioritise its work and embark on those projects it has the funds for.
[New Telegraph]