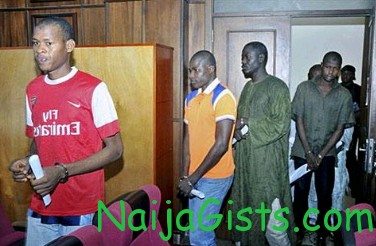 Nov 1st, 2012 – Boko Haram Members Arrested In Minna Confessed They Massacred Policemen
Suspected Boko Haram sect members who were arrested in Minna, Niger State, Nigeria few weeks ago in connection to the 2 major bomb production factories in the state have made a sad confession on how they massacred several police officers in the state. naijagists.com
Mrs Nsirim, Niger state police command spokesperson revealed this during a news briefing in Minna on Wednesday.
Nsirim said the Boko Haram suspects have been transferred from Abuja.
"Our decision not to   mention  the exact  number of the hoodlums so far  arrested  in connection with the bomb factories and not to parade them before newsmen or exhibit the dangerous items recovered from the scence of crime is hinged on the security implications. We are also still in search of a vital information as regards the criminal activities  of the suspects in the state prior to their arrest," Nsirim said.
For Boko Haram News update visit https://naijagists.com/boko-haram-news-update-in-nigeria/